Andie MacDowell, 59, Has Been Growing Her Own Wheatgrass and Wearing SPF Since Before It Was Cool
The model and actress opens up about her best advice on aging in Hollywood, health and wellness, and, of course, her favorite hair products.
---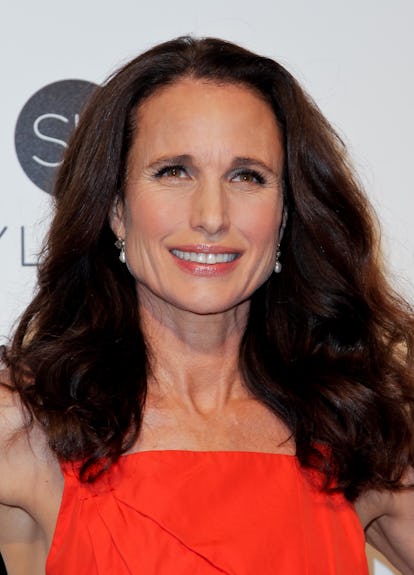 Photo by Getty.
With her voluminous curls and glowing skin, actress Andie MacDowell is a timeless beauty. And while the Four Weddings and a Funeral star certainly has makeup and styling tricks worth stealing, it's her emphasis on inner beauty that makes her the ultimate role model for natural health. From yoga to hiking to making her own fresh vegetables juice, the actress is a big believer in eating clean, exercising and practicing self-care.
Here, MacDowell shares everything from her favorite hair products to her philosophy on aging.
Your look in three words:
Earthy, healthy and happy.
Good skin starts with:
Moisturizing.
A good hair day starts with:
L'Oréal Paris Hair Expert Extraordinary Oil Shampoo & Conditioner. My hair can get a bit dry and these products make it feel soft and lustrous without weighing my hair down. L'Oréal Paris Advanced Hairstyle Air Dry It Mousse for days I want to give my hair a break from heat styling. L'Oréal Paris Elnett Satin Hairspray, which has great hold without feeling sticky or heavy, I never leave for a red carpet without it. Kérastase Crème De La Crème Blowdry Control Cream, which helps tame frizz and protects hair from heat styling
My hair colorist always says:
Use a moisturizing mask or balm at least once a week.
Best advice from your dermatologist:
Always wear SPF.
Best advice from your facialist:
Never go to sleep with your makeup on.
SPF of choice:
SkinCeuticals Physical Fusion UV Defense SPF 50: a tinted sunscreen that goes on smoothly without any residue.
Most underrated product:
Blur products/skin smoothers.
Never leave the house without:
Doing my eyebrows, concealer, gloss and some aromatherapy oil on my wrist.
Nails must be:
Best tip from my manicurist is natural nails need to breathe, I love having painted nails but every occasionally, I let them breath. I use a bit a lemon to lighten them up.
Beauty from the inside out:
I'm a big believer in juicing fresh vegetables and do it every day. I was growing my own wheatgrass 30 years ago. I only eat real food, and avoid man-made packaged food. Anything that grows out of the ground I eat. I do eat meat and chicken, but never with any added hormones, that's a huge no-no! I eat wild fish, healthy fish. I love all beans and I make one heck of a Dal. I love cheese but I eat it in moderation. I eat a lot of nuts. I study food and understand how it works in your body.
Exercise obsession:
My exercise obsession is hiking and yoga. I do go to the gym because I can push myself hard and get a fast sweat, but hiking does more for you than just exercise–your cortisol levels are balanced by walking in nature. Yoga can be extremely athletic and I do advance yoga, so my body really gets a strong workout, but that's not the only reason I do it. Yoga balances your hormones, calms your nervous system and can change your perspective on life in a positive way. Yoga makes you less stressful and when you're less stressed you look more beautiful, it shows on your face. Hiking and yoga make you much more beautiful person.
Drink of choice:
Water with a bit a lemon or the kumquats from my trees. And freshly squeezed juice. One my favorite combinations is kale, dandelion, apple, ginger & lemon.
Product that you picked up from the pros:
L'Oréal Natures Therapy Mega Moisture Nurturing Creme has been around for a long time, there's a reason, it is the best product I've ever found for dry hair and it's not expensive.
A woman should smell like:
A woman should smell in a way that brings her pleasure. I prefer pure aromatherapy oils, I'm obsessed with one called "peace."
Appointment you'd love to nab:
The appointment I'd like to nab is always a massage, finding a great masseuse is a treasure to me, that's when I look at my most beautiful, after I've had a massage.
TSA-friendly essentials:
I suggest packing a small amount of coconut oil in a little container for long flights, as airplanes can be very drying and you can use the oil like a spa time on the plane for your face, hair and hands.
In-tub must-read:
Best bathtub read for me would be anything by Anne Lamott, I'm ready to dig into Hallelujah Anyway. She always makes me laugh and she embraces all the broken bits.
Best advice from mom:
Wear sunblock. She was ahead of her time. Thanks to her I didn't bake my skin.
Best-kept beauty secret:
My best-kept beauty secret is that no matter what you do, how well you put on your makeup, or what care you take with what you wear, if you haven't done your work on your interior life, your mind and your thoughts, nothing will help.
Beauty myth you'd like to debunk:
The beauty myth that I'd like to debunk is that you must be young to be beautiful, age isn't a detriment and we don't need to chase youth, we should all embrace every moment of our life.
Definite doppelgänger:
Minnie Driver and Julia Louis-Dreyfus – both are great gals, and beautiful inside and out!
Anything else:
Finding beauty as mature women in a culture that glorifies youth can be challenging but we don't have any other choice if we want to be happy. Time is precious and cannot be wasted and there are so many aspects of maturity that are outrageously gorgeous. Don't look back unless it is to see how far you've come.
"Wonder Woman" Star Gal Gadot Was a Very Reluctant Pageant Queen