Andrew Garfield Has Some Thoughts About Miss Vanjie's Exit From RuPaul's Drag Race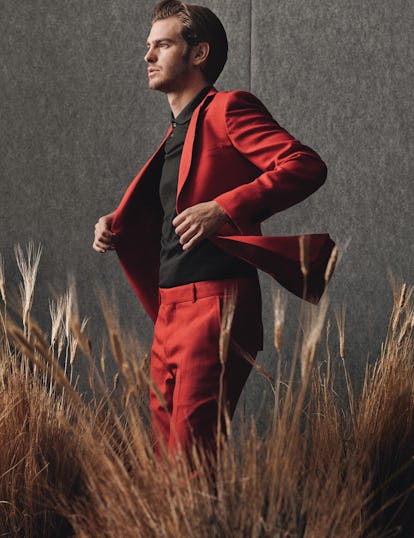 Photographs by Craig McDean. Styled by Edward Enninful. Hair by Orlando Pita for Orlando Pita Play; makeup by Peter Philips for Dior. Manicures by Michelle Saunders for Essie at Forward Artists. Set design by Piers Hanmer.
Andrew Garfield may not be a fan of social media, but he knows his memes. One of them happens to be a viral moment from RuPaul's Drag Race when contestant Vanessa Vanjie Mateo gave an unforgettable exit, reciting "Miss Vanjie" over and over. Like everyone else who viewed the clip on the Internet, Garfield has a lot of thoughts about the moment, and was both sad and confused when Vanjie was let go from the show.
"I was so disappointed to see Miss Vanjie go, as everyone was," he told Broadway.com's Show People with Paul Wontorek, as Billboard notes. "And that exit is like one of the iconic moments—I believe—of Drag Race history."
After he got over his grief, he tried to parse what it all meant. "What the hell was that?" he said of the exit. Was she "taken over by a divine entity?" he wondered. "It's hypnotized the culture, it's like…she was channeling something." Whatever it was that Vanjie channeled, it stuck with Garfield.
Her iconic exit resonated with him in a way that few things do. "I feel changed," he said, explaining how he felt after watching the episode. "Bruce Springsteen and Miss Vanjie, I feel changed by so far this year. Maybe Miss Vanjie slightly more profoundly."
One of the reasons Garfield connected so deeply with the viral moment may be because he's stepped into her shoes before—well, not Vanjie's specifically, but a drag queen's. Last year, equally unforgettably, Garfield dressed in drag to perform Whitney Houston's "I'm Every Woman" alongside alumni from RuPaul's Drag Race.
Related: RuPaul's Drag Race Season 10 Contestants Spill Their Style Secrets and Fashion Influences