Andrew Garfield Plays a Hipster Conspiracy Theorist in Under the Silver Lake Trailer
It may be his last movie for a while.
---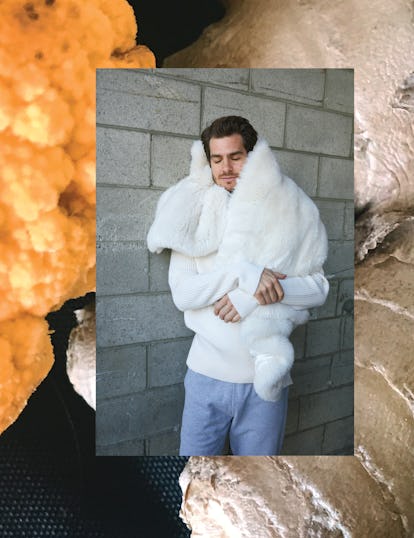 Photographs by Juergen Teller; Styled by Edward Enninful
Andrew Garfield is not an actor who plays the same kind of roles over and over again. He's been a Jesuit priest, a World War II hero, and even Spider-Man during his surprisingly varied career. And yet, somehow, he has never portrayed a stoned and aimless L.A. hipster, although it makes perfect sense. (This is the guy who told us he ate weed brownies and went to Disneyland once after all.)
Garfield finally is getting that opportunity in buzzy indie director David Robert Mitchell's Under the Silver Lake. In the film, Garfield plays Sam, a twentysomething who seems to be just sort of floating through life in Los Angeles's hipster neighborhood, spending his time doing aimless L.A. hipster things like listening to old vinyl and wearing his collection of thrift-store-bought T-shirts. Then one night he happens to come across an alluring and mysterious blonde (played by Riley Keough) swimming in his condo complex's pool. Naturally, they get wrapped up in a brief bout of amore until Sam knocks on her door one day and finds that she's moved out in the middle of the night.
The shock send Sam into an increasing obsession with conspiracy theories and numerology and patterns as he tries to track down the woman. "Our world is filled with codes. Subliminal messages from the Silver Lake to the Hollywood Hills," says one disembodied voice. It's basically this gif:
Of course, Sam's descent into uncovering codes also includes copious amounts of weed, cereal, old video games, and some barking ladies in pink bobbed wigs.
The film also stars Girls's Zosia Mamet, Westworld's Jimmi Simpson, Riki Lindhome from Garfunkel and Oates, and Topher Grace (no word on if the film's accidental Spider-Man connection becomes one of the many mysteries and patterns Sam delves into).
Under the Silver Lake will be released in select theaters on June 22nd.
It may also be the last time we see Garfield on screen for at least a minute. He's spent the past year devoted to his role in the revival of Angels in America. He began his journey with the play last year on London's West End and is now nominated for Best Actor at the Olivier Awards. The production transferred to Broadway this year, where it's currently in previews, and will officially open this weekend. As of this moment, Garfield has no other film or television commitments listed on his IMDb beyond Silver Lake.
Related: Andrew Garfield Still Doesn't Care If You Condemn His Use of Drugs
A Complete Guide to Recognizing the Internet's Boyfriends in the Wild
Who: Tom Hiddleston, Benedict Cumberbatch, Matt Smith. Where: The BBC. Wearing: Burberry.

Getty Images
Who: Riz Ahmed, Kit Harington, Rami Malek. Where: HBO or adjacent. Wearing: Dior Homme.

Getty Images
Who: Jeff Goldblum, Kyle MacLachlan. Where: The hotly anticipated remake of the project that first made them famous. Wearing: A turtleneck; Balenciaga.

Getty Images
Who: Mahershala Ali, Oscar Isaac. Where: The playground, but also the Oscars. Wearing: Unfortunate hat choices. (Not pictured.)

Getty Images
Who: Chris Evans, Andrew Garfield. Where: In a cryochamber, until the corporate overlords permit them to talk about the new movie. Wearing: Lycra.

Getty Images
Who: Frank Ocean, Chance the Rapper. Where: The festival circuit; Tumblr. (Actually on the internet.) Wearing: Custom coveralls.

Getty Images
Who: Idris Elba, Tom Hardy, Jon Hamm Where: Playing the antihero on that show you never finished; vying to be the next James Bond. Wearing: Doesn't matter.

Getty Images
Who: Milo Ventimiglia, Adam Brody. Where: A network dramedy everyone says is great but no one watches; the walls of your teen bedroom. Wearing: Whatever's "in" among Brooklyn dads.

Getty Images
Who: Donald Glover, Harry Styles. Where: Your dreams. Wearing: Fashion with a capital F.

Getty Images
Who: John Boyega, Tom Holland. Where: This year's blockbusters. Wearing: Ask them in a couple months.

Getty Images