Warhol on the Brain
"Andy Warhol Flowers," at New York's Eykyn Maclean Gallery, shows work from a pivotal time in the artist's career, in a season where he is seemingly everywhere.
---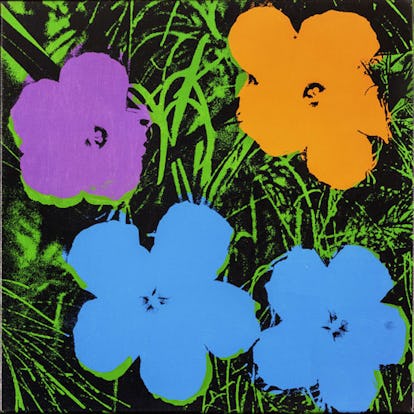 The fall belongs to Andy, as several New York art world institutions have chosen Warhol as the focus of primetime exhibits and auctions.
First up is The Metropolitan Museum of Art's "Regarding Warhol: Sixty Artists, Fifty Years," which ticks off various "Warholian" themes and the artists who picked up on them in his wake.
Then there's the November 12 sale of photographs, paintings, prints, and works on paper at Christie's. As part of an ongoing partnership with The Andy Warhol Foundation for the Visual Arts, proceeds will help to expand the Foundation's grant-making programs.
As we like to say at W, three is a trend. Rounding out the city's Warhol mania is "Andy Warhol Flowers" at Eykyn Maclean Gallery.
"When we were planning the show, we had no idea about the Christie's auction. That's just a happy coincidence," laughs gallery director Kristy Bryce, who curated the show.
Eykyn Maclean's space on 67th and Madison is abloom with 50 works from Warhol's Flowers series, Produced in 1964-5, the series earned the artist his first show at Leo Castelli's gallery after his first submission to present there was rejected in 1961.
The works also represented a shift away from the Pop subject material that made him famous, as well as a reaction to the controversy that ensued after his contribution to the 1964 World's Fair came via Thirteen Most Wanted men, a mural of criminals on the outside of the New York State Pavilion.
Bryce has cleverly arranged the Flowers series so that each room offers a glimpse at the different scales he worked in. "At the time he was also preparing for his show at the Sonnabend in Paris," she says. These preparations included purchasing smaller canvases—8 and 5 inch squares, for example—which filled the walls from floor to ceiling at the Sonnabend space. Bryce has hung these pieces across from a recreation of the large-scale arrangement that was executed for the Castelli gallery window, acknowledging both the context of their original exhibition and our modern understanding of them.
The most delightful work in the show is a piece that Bryce herself did not know existed, a large red linen fabric printed with the flower motif on one half. Created to serve as a flag for a New York City bookstore, it's proof that Warhol was—and still is—everywhere.
Andy Warhol Flowers will be at Eykyn Maclean until December 8th, www.eykynmaclean.com