The New York Times Mixed Up Angela Bassett for Omarosa Manigault-Newman
It has since issued a correction.
---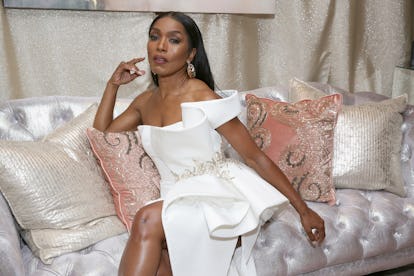 Rebecca Sapp/Getty Images for Backstage Creations
How in the world did this happen? That's what The New York Times is undoubtedly asking its staff after its Emmys coverage went to print without being fully fact-checked. The newspaper, which turns 167 years old today, made a crucial and offensive error when a photo caption confused accomplished actress and Emmy presenter Angela Bassett for reality TV personality and former White House advisor Omarosa Manigault-Newman. The Apprentice star wasn't even at the awards show.
The massive error occurred in The Times' Emmys recap, which consisted of a photo spread that included a picture of Bassett, along with her co-presenter, Tiffany Haddish, handing the award for lead actress in a comedy series to The Marvelous Mrs. Maisel's Rachel Brosnahan. Buzzfeed writer Julia Reinstein caught the error and posted it to Twitter, where it quickly spread. The mistake, which was printed, was apparently part of the metadata for the photo, which the paper pulled from a wire service, as the publication noted in its apology.
"We regret running an incorrect caption from a photo wire service in some early print editions," read an official statement on Twitter. "We will issue a correction in tomorrow's paper."
The wire service also issued a statement announcing that the error had been fixed. "The erroneous mention[s] appearing in the metadata of this photo by Robyn Beck has been modified in AFP systems in the following manner: [Angela Bassett] instead of [Omarosa Manigault Newman]," it read.
Of course, the damage is already done. Many Twitter users commented on that exactly, while highlighting the unfortunate implications of the error. "If they had no one who could tell the difference between the two, then they really, really need to step up diversity in their newsroom," one user tweeted.
Others simply wondered how the newspaper's on-duty fact-checker could possibly mistake Omarosa for the queen that is Bassett.
Even Dictionary.com pointed out the problematic nature of the error, sharing a definition of "the cross-race effect," which "explains why some people are better at recognizing faces of people of their own race, rather than those of a different race." "It is also sometimes referred to as casual racism," the Web site tweeted.
Bassett, meanwhile, has seemingly already moved on. She shared a GIF of Kerry Washington from Scandal telling a client "it's handled," tweeting, "Hey Everybody, no worries!"
Now, we can move on to more pressing matters: Like wondering why Angela Bassett hasn't been confirmed for this season of American Horror Story.
Related: Angela Bassett Breaking Down Her Health and Diet Routine Is Mesmerizing