Angela Bassett Breaking Down Her Health and Diet Routine Is Mesmerizing
The 60-year-old Mission Impossible star shares how she stays in action-blockbuster shape.
---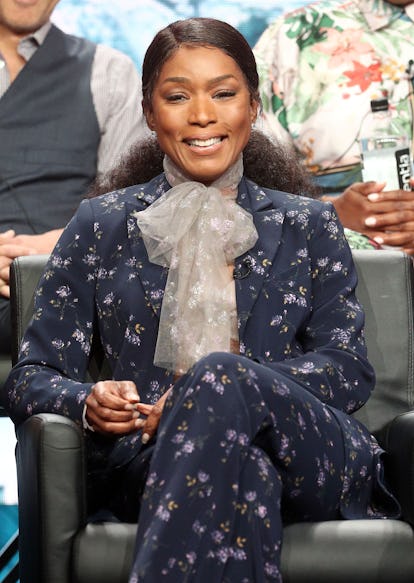 Photo courtesy of Getty Images.
Please, have a pen and paper ready, because Angela Bassett is here to let you in on her health-and-fitness regimen, and she's nothing if not precise in her instructions.
On Saturday, a user by the handle @shanna__alicia posted a minute-long clip from Bassett's Misson Impossible: Fallout press tour, in which the actor outlines her weekly nutrition-and-workout schedule. ("Bitch, listen," she captioned.) The clip swiftly went viral—maybe because just a week ago, Bassett turned 60, celebrating with a bikini photo that's proof positive that this s–t works, or maybe due to the contrast between Bassett's monologuing and the speechless grin of her interviewer, who was presumably unprepared for the response she'd receive to a seemingly stock question about getting in Mission Impossible shape. ("What is the formula?" were her exact words, per the full clip on Youtube, titled "3 Things You Must Do to Look Like Angela Bassett." "We don't have time," Bassett responds.) Amid Basset's rapid-fire delivery, the video cuts back and forth to the delighted-yet-alarmed expression of her interviewer, who nods along as the actor explains when to eat your carbs, your fats (good fats only, though), and your proteins, peppering her descriptions with excited hand gestures. You see, Angela Basset really loves to talk about this stuff.
"Monday, Tuesday, I may eat carbs, fruit; Tuesday, Wednesday, protein, veggies—veggies every day—no fats those four days, and then the last three days, I flood it with fat," she explains, barely pausing for a breath. "Good fat, though: maybe coconut oil, salmon, almonds, almond butter, you know, olive oil, that sort of thing." (Here, she flicks her hands, salt bae-like—the salt bae of the nutrition world.) "I don't do any dairy, all right?" she goes on. "I don't do any bread flour. I'll do Ezekiel bread, which is sprouted." (Cue the unofficial sign language gesture for "sprouted.")
"Okay, is that good?" she finally asks the interviewer.
"Yes, you gave me the formula!" her interviewer responds, seemingly overjoyed but prepared for that to be the end of it. But, oh, no, Angela Bassett is just getting started.
"Okay, that's those two things. And then, I work out with my trainer. I gotta pay"—celebrities, they're just like us—"so I will show up, 'cause I don't want to waste my money. So I gotta be accountable and know somebody's there waiting for me, because I know myself, and I will talk myself out of going," she says. (We do not believe this for a second. No way does Angela Bassett slack on her fitness.) "I go in the morning because my workout quotient will diminish as the day goes on. Maybe Monday, Tuesday, I'll do cardio; Wednesday, Thursday, because I'm eating protein, I'll do strength building; and then Thursday, Friday, Saturday, Sunday, when I'm eating all that fat, then it's about"—here, she takes in a deep breath, both to illustrate what comes next and because there has to be a breath mark somewhere in this monologue—"deep breathing, a massage, yoga."
Then, she pauses, and with a dismissive hand gesture, she concludes: "I don't do yoga."
Related: Behold: Black Panther's 15 Best Lines For You to Relive and Rejoice Over