How Vanessa Kirby Went From Playing Princess Margaret on The Crown to Playing an Action Hero in Mission: Impossible—Fallout
The Mission: Impossible—Fallout star may be doing stunts for the first time, but she's always been willing to suffer for her art.
---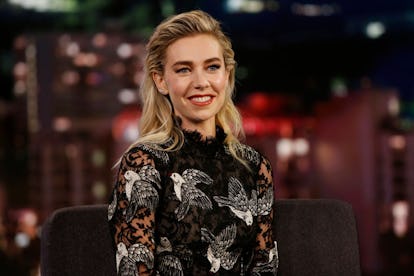 Randy Holmes/Getty Images
Early reviews of Mission: Impossible—Fallout have praised Vanessa Kirby as one of the most enjoyable aspects of the summer blockbuster (the New York Times called her "slinky" and "charismatic"), but fans of her performance in seasons one and two of Netflix's historical royal drama, The Crown, have long known that the actress has the range.
Before Kirby played the disaffected teenage Princess Margaret, and later "the playful one, the fun one, the wild one" in the royal family, as she once told W, the actress was already a star in the theater community. And though she may be performing stunts for the first time in the sixth installment of the Mission: Impossible franchise, the 30-year-old has always been more than willing to suffer for her art, as she demonstrated in her very first post to Instagram (an ode to the wounds she accumulated portraying Stella Kowalski during the St. Ann's Warehouse run of A Streetcar Named Desire).
Kirby has flown relatively under the radar, but she gained a cult following due to her portrayal of Princess Margaret on The Crown, and her roles in the theater before that. Every project that adds Kirby (Mission: Impossible—Fallout is just one example) is improved by her presence, and fans and directors alike know that to be the case.
She breathed so much life and pathos into her achingly fiery version of Princess Margaret that Netflix's decision to cast the esteemed Helena Bonham Carter as the older iteration of one of the most fashionable royals in the next two seasons of The Crown can be seen as the ultimate compliment to Kirby and her abilities. Kirby herself admitted she felt "honored upon the official meeting of the two Princess Margarets.
It should not come as a surprise, then, that Kirby's performance in Mission: Impossible—Fallout, as White Widow, a con artist who is integral to the plot of the international cat and mouse game on display in the film (she turns out to be a badass agent who also really knows how to operate a shiv under the right circumstances), is taking critics' breath away. Kirby is one who studies (she admitted to binge watching all of the Mission: Impossible films in order to prepare for her first meeting with the franchise's star, Tom Cruise) before performing stunts for the first time in her life, and before taking the screen by storm.
Related: Princess Margaret's Morning Routine Proves She Was Really a Queen