All Hail Helena Bonham Carter's Princess Margaret in The Crown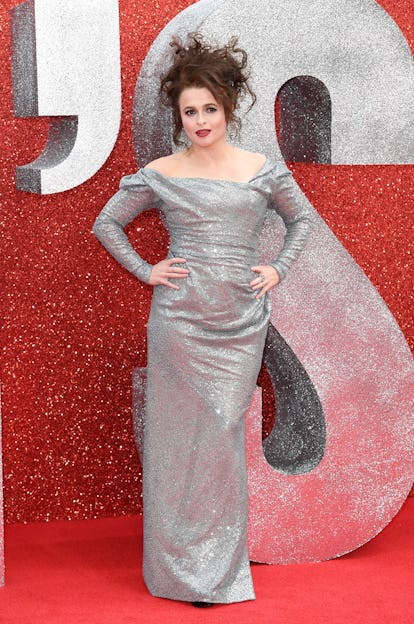 Photo courtesy of Getty Images.
Fresh off yesterday's first look at Olivia Colman as Queen Elizabeth II, Netflix is stirring up even more palace intrigue—this time, with a first look at Helena Bonham Carter as The Crown's resident troublemaker Princess Margaret. As fans all know by now, Bonham Carter will be taking over the monarchical reins for seasons three and four of the period drama, replacing Vanessa Kirby as the series jumps ahead in time. Carter is the highest-profile new addition to the cast, and our first look assures us she fits the role perfectly.
Posted to Netflix's Twitter account with the caption "Hope," the new Margaret is rocking a perfect cat-eye, wearing a gorgeous blue fascinator, and indulging in her beloved cigarettes. There's some sort of man standing beside here, but as the Princess pointedly doesn't seem to care that he's there, perhaps neither should we.
Interestingly, Netflix also gave us a tease of Ben Daniels's Antony Armstrong-Jones—that's Lord Snowdon to you—in his full photographer glory. (He's replacing Matthew Goode in the role.) His caption gets the distinction of "Hurt," as some hurting between the couple very much does occur throughout the '60s and '70s, which reached its apex in a very public, bitter divorce that the British tabloids ate up. (Basic knowledge of European history doesn't count as a spoiler, of course).
"I'm not sure which I'm more terrified about—doing justice to the real Princess Margaret or following in the shoes of Vanessa Kirby's Princess Margaret," Bonham Carter said in a statement before filming of The Crown's third season began. "The only thing I can guarantee is that I'll be shorter than Vanessa." Since we won't be getting the season until 2019, might we recommend going out to see Bonham Carter in Ocean's 8 in the meantime? That, or refreshing the Netflix Twitter account for more photos.
Related: A Brief History of the British Royal Family's Complicated Romantic Entanglements