Helena Bonham Carter Will Officially Star in Seasons 3 and 4 of The Crown
She's taking over from Vanessa Kirby as the lovably moody and dramatic diva, Princess Margaret
---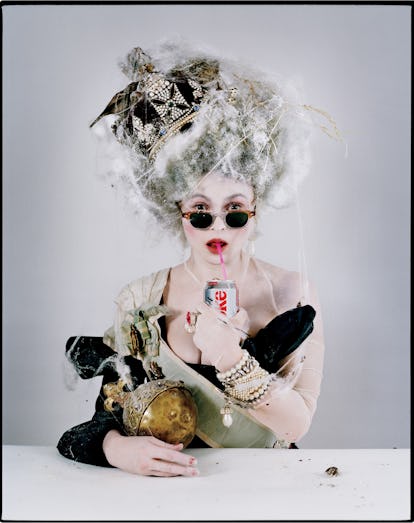 Tim Walker
After the seemingly nonstop articles about just how much less Claire Foy has been paid than Matt Smith for her starring role as the Queen in Netflix's The Crown, there's finally some more uplifting news about the series. (Aside from the fact that its producers recently handed over £200,000 in back pay to Foy.) On Thursday, the rumors that Helena Bonham Carter will star in the show's upcoming Season 3 were confirmed—along with the news that she'll also star in Season 4, which will see the Queen reach age 60.
The next couple of seasons of The Crown will jump ahead to the 1970s, necessitating a new (aka more elderly) batch of actors to replace those who previously played the show's starring royals. Olivia Colman, for one, who's currently 44, just like Queen Elizabeth II was in the year 1970, will be replacing Foy, and Tobias Menzies, also currently 44, will be replacing Smith as Prince Philip. Carter, who's currently 51, will now replace Vanessa Kirby in her beloved role of Princess Margaret—though, unfortunately, we won't get to see all of them in character until 2019.
The decision is a clear fit for the Queen's ever devious, moody, and dramatic younger sister, given Carter's widely recognized status as Hollywood's resident badass. There's also the fact that Carter has recently played a royal, the Queen Mother in 2010's The King's Speech, and even has a real-life tie to Princess Margaret, whose lady-in-waiting, Jane Stevens, once lived in Carter's home in Oxfordshire. Still, Carter is a bit intimidated about the role. "I'm not sure which I'm more terrified about—doing justice to the real Princess Margaret or following in the shoes of Vanessa Kirby's Princess Margaret," she said in a statement, cheekily adding that the only thing she can "guarantee" is that she'll be shorter than Kirby.
Helena Bonham Carter Takes W's Screen Test:
All that's not to overshadow the fact that the actor Jason Watkins will also be joining the cast, playing Prime Minister Harold Wilson, who was part of the Labour Party and twice in office, from 1964 to 1970, and from 1974 to 1976, finally resigning amid an economic crisis, having never been known for his success on the economic front while prime minister. (He's also remembered for being blamed for Britain's Winter of Discontent, refusing to have British troops partake in the Vietnam War, and being at the center of several conspiracy theories, including the idea that he was secretly a KGB agent.)
Watkins, who may be unfamiliar to American viewers, has starred in a long roster of British miniseries and TV shows—including one with Carter. He's already expressed excitement to work with Colman and the rest of the team, which Carter seems to have been feeling, too. In fact, she was already hanging with Kirby, much to the younger Prince Margaret's delight, all the way back in January.
Related: Princess Margaret's Morning Routine Proves She Was Really a Queen