The Crown's Vanessa Kirby Could Be Replaced by Helena Bonham Carter
There's a new Princess Margaret in town.
---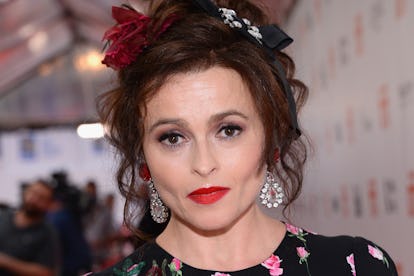 GP Images/WireImage/Getty Images
The third season of The Crown promises to be especially bittersweet. On one hand, as the Netflix series jumps forward in time, fans will have to say goodbye to the award-winning cast they've come to know and love, who will be replaced by an all-new set of actors so that the characters can age appropriately without the crew's having to painstakingly apply any cosmetic or CGI magic to Claire Foy and company. On the other hand, the new cast is shaping up to be pretty excellent — and the casting news just keeps getting better.
British newspaper The Evening Standard reports that Helena Bonham Carter is "all but confirmed" to replace Vanessa Kirby as Queen Elizabeth II's impulsive younger sister, Princess Margaret, in the new episodes. HBC, who is perhaps the perfect choice to follow in Kirby's incredibly hard-to-follow footsteps, was reportedly previously considered for the role of the middle-aged QE2 before the powers that be decidedly (correctly) that she was a better fit for the clever, moody, and dramatic Princess Margaret.
The rumored casting decision is all the more auspicious in light of Bonham Carter's own ties to the royal family. According to The Evening Standard, her Oxfordshire home, Mill House, was once the residence of Margaret's lady-in-waiting Jane Stevens. Additionally, Bonham Carter previously played Elizabeth, the Queen Mother, in 2010's The King's Speech, which will undoubtedly serve her well if she really does play Elizabeth's daughter on The Crown.
Only one member of the new cast has been officially confirmed so far: In what promises to be an equally spectacular casting choice, Olivia Colman is slated to replace Claire Foy as Queen Elizabeth II. Colman, who, like Bonham Carter, has also played the Queen Mother before (in 2012's Hyde Park on Hudson), recently spoke about how thrilled she is to play the current monarch on the hit show. "I have remained ridiculously excited since [finding out]," she told the Radio Times. "I'm trying to be cool."
__Related:: Ocean's 8's First Full Length Trailer Is Here