Ocean's 8's First Full Length Trailer Is Here
The first trailer for Ocean's 8 is here with Sandra Bullock, Cate Blanchett, Rihanna, Mindy Kahling and more.
---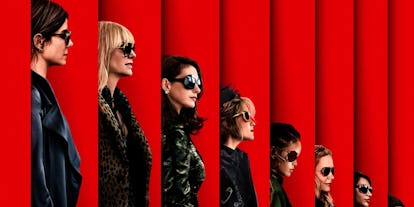 "If I were to be released, I would, um, I would just want the simple life," says Sandra Bullock as Debbie Ocean in the first trailer for Ocean's 8. "I would just want to hold down a job, make some friends, pay my bills." She's at her parole hearing, and technically she's not lying. Once release, she spends the rest of the trailer assembling a group of "friends" in order to hold down a "job" that could pay $150 million dollars worth of "bills."
Soon after Ocean walks out of jail, we also meet the rest of the eight. There's Cate Blanchett's Lou, who seems to be Ocean's skeptical, but willing old partner in crime. Mindy Kaling's Amita is a gifted jeweler who still lives with her suffocating mother. Rihanna is a hacker named Nine Ball whose real name is actually Eight Ball. Helena Bonham Carter plays Rose, a down on her luck fashion designer who is either forced to design uniforms for an airline or is doing her own airline-themed collection (either way, sad). Awkwafina plays Constance, a card hustler with very quick hands. Sarah Paulson is Tammy, a suburban mother who gets dragged back in. Then there's Anne Hathaway as Daphne Kluger, who seems to be a bit of an insufferable actress.
Also of note is the fact that about half the masthead of Vogue make a cameo in the trailer, which makes sense considering Ocean's heist is set at the annual Met Gala. The mark: Kluger's $150 million dollar diamond necklace. We assume that Kluger herself is somehow in on this and hence part of the "eight," though that's not entirely clear from the trailer.
James Corden also makes an appearance, while Damian Lewis and Richard Armitage are also amongst the cast. Dakota Fanning has a top secret role, while Matt Damon and Carl Reiner will cameo as their characters from Ocean's 11. Alexander Wang, Kim Kardashian, Kylie and Kendall Jenner, Zac Posen, Zayn Malik and others are also supposed to make cameos during the Met Gala scenes.
The movie debuts June 8th, 2018.
Related: The Ocean's 8 Teaser Gives You Everything You Need in 15 Seconds