The Ocean's 8 Teaser Gives You Everything You Need in 15 Seconds
Ocean's 8, starring Sandra Bullock, Cate Blanchett, Rihanna and more, debuts a 15 second teaser trailer.
---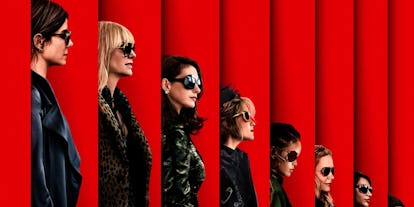 You'd think just 15 second of footage wouldn't be able to satiate your thirst for official Ocean's 8 content, but the 15 second teaser trailer really does gives us everything we needed in a compact little package. Or, at least enough until the first full lengthy trailer is released Tuesday. It starts with Sandra Bullock's Debbie Ocean and Cate Blanchett's Lou eating breakfast in a diner before a cover of Nancy Sinatra's "These Boots are Made For Walking" kicks in and we get our first glimpses at the eight in motion.
Update: The full-length trailer has now dropped. Watch it here.
There's Rihanna, looking supremely chill as she brandishes something in the air. Helena Bonham Carter looks geek glam while ogling some jewels. Sarah Paulson pops up between some boxes, and, you know what, she's amazing at it. Mindy Kaling deals with some tools, Awkwafina appears to give us some directions, and then Anne Hathaway slaps a man just to wrap things up.
Then there's like two seconds of security dealing with jewels or some such, which we suppose is relevant to the plot, but really just deprived us of two seconds more of the cast. Then it all ends with Blanchett and Bullock back in the diner, which makes us realize we probably could watch an entire movie of just Blanchett and Bullock in a diner and be excited about it, but this really has so much more.
In case you're not up to speed, the movie finds Bullock playing the estranged sister of George Clooney's Ocean's 11 character Danny Ocean as she puts together an all-female team to steal priceless jewels from the Met Gala. The only downside to all of this is that we still have to wait until June 8th of next year until the film premieres.
Related: The First Poster for Ocean's 8 Is Here To Give You Hope for 2018