Angela Missoni Doesn't Pluck Her Eyebrows
The Italian fashion designer shares her beauty secrets.
---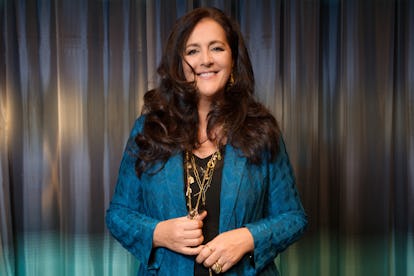 Angela Missoni grew up in the fashion industry. In fact, her earliest beauty memory is backstage at a fashion show for Missoni, the Italian knitwear label founded by her parents Ottavio and Rosita in 1953. "That's where my fascination for makeup and beauty products, especially eyelashes and mascara, started," she says. Today, Angela is the head of design for both women's and men's and oversees the lebel's other endeavors, including a new fragrance, Missoni Eau de Parfum (out in early 2016).
What's your first beauty memory? Backstage at Missoni fashion shows, which I have attended since I was a little girl.
What was your worst beauty blunder? Plucking eyebrows, as they do not grow back.
What beauty products are currently in your purse? MAC Crystal glass powder, a long-lasting lip marker, Chanel or Kiko eyebrow pencil, L'Oreal Double Extension Mascara, MAC light & dark blush-eyeshadow, and MAC concealer.
What's your 5-minute morning beauty routine? My beauty routine has been the same for the last 20 years: Eyelid gel, Vitamin C gel, and Kerstin Florian Hyaluronic acid.
If you had an extra 10-15 minutes in your routine, how would you spend it? With a face massage when I see I am swollen.
What's your beauty peeve? Sun without protection. I like to use Skinceuticals Sheer Mineral UV Defense or La Roche-Posay Anthelios for daily protection.
What are you currently obsessed with? Right now, it's my biological vegetable garden. I like to contemplate its growth, its colors, and its shapes and I like to share my feelings with little Otto, my grandson, and bite, taste, discover and enjoy its flavors with him.