Could Angelina Jolie's First They Killed My Father Win an Oscar for Best Foreign Film?
Fellini. Kurosawa. Jolie?
---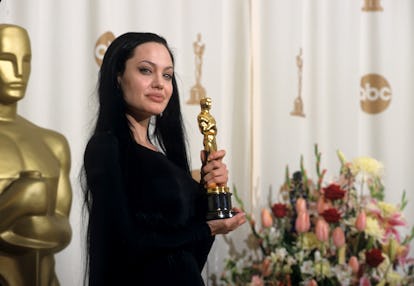 Kevin.Mazur/INACTIVE
Federico Fellini. Akira Kurosawa. Pedro Almodóvar. These are the directors whose works have all won the Academy Award for Best Foreign Language Film. Could Angelina Jolie be the next to join that dignified list?
While the idea of one of America's most famous native-born actresses even being nominated in the hallowed category seems completely counterintuitive, it's actually possible. In fact, Jolie has already cleared the first hurdle. Her film First They Killed My Father is among the 92 films on the Academy's initial long list.
Which is interesting, because despite the simple name of "Foreign Language" the category comes with a lot of other rules that would normally disqualify any American filmmaker. Clint Eastwood's Letters from Iwo Jima won the Golden Globe's foreign language film award in 2007, but wasn't even qualified to be nominated at the Oscars. Yet, Jolie and her film, in an extraordinary case, actually do qualify (and no, it has nothing to do with the fact that Jolie's mother was French).
Here's the breakdown of some of the special rules that govern the Foreign Film category germane to Jolie's case:
"The motion picture must be first released in the country submitting it no earlier than October 1, 2016, and no later than September 30, 2017, and be first publicly exhibited for at least seven consecutive days in a commercial motion picture theater for the profit of the producer and exhibitor."
Father actually originally premiered in Cambodia all the way back in February.
"The recording of the original dialogue track as well as the completed picture must be predominantly in a language or languages other than English. "
The dialogue of Father is indeed predominantly in Khmer. In fact, if it were to be nominated, it would be the first Khmer language film every nominated for the award (another Cambodian film, The Missing Picture, was nominated in 2013, but the film is mostly in French).
"The submitting country must certify that creative control of the motion picture was largely in the hands of citizens or residents of that country."
This is where you think Jolie might be disqualified. She is, after all, an American citizen. Turns out, however, that she was also awarded Cambodian citizenship by order of royal decree from King Norodom Sihamoni all the way back in 2005. Jolie's co-screenwriter Loung Ung was also born in Cambodia (the film is based on her memoir), and co-producer Rithy Panh (the man behind The Missing Picture) is also Cambodian (as are most of the film's stars).
Foreign films submissions are picked on a country-by-country basis by a sanctioned committee. First They Killed My Father has already been chosen by the country.
Though, so have 92 other films from 92 other countries (a historic high), but Jolie's is being singled out as a very likely nominee by Oscar's prognosticators. After all, it's mostly received warm critical regards, has been shown on the international festival circuit, and is even available to watch for free to anyone with a Netflix subscription.
Still, it would have some stiff competition in the category. Sweden has selected The Square, which counts Elisabeth Moss as a cast member and has already won the Palme D'Or at the Cannes film festival. Though, a Palme D'or doesn't necessarily mean much; 2012's Amour is the only film to win both a Palme and an Oscar since 1990. Interestingly, Austria has selected Happy End, which is a reunion of Amour stars Isabelle Huppert and Jean-Louis Trintignant, and director Michael Haneke. It could be a major player. France's AIDS activist drama BPM: Beats Per Minute was beloved on the festival circuit. Germany's In the Fade has won Diane Kruger tones of acting acclaim. Chile's A Fantastic Woman, Israel's Foxtrot, Russia's brutal Loveless, and others remain in the conversation.
So Angelina Jolie and First They Killed My Father have a long way to go, but we would not be surprised to see Jolie walk the red carpet next year, this time as a director.
Though, we should point out that technically Jolie wouldn't win the award. While she'd accept it if the film's name is called, technically the entire country of Cambodia would be recognized as the recipient by the Academy.
Related: Things Angelina Jolie Is Over Right Now: Being Single, Not Acting, Doing Press
10 Famous Actresses Who Drastically Cut Their Hair Short For Movie Roles: