Angelina Jolie, Foiled in Quest for Hot Dogs, Departs Her Local Target in Dismay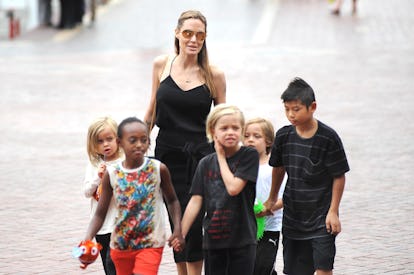 by Simon Bullard/Newspix/Getty Images
You know that feeling when you just really, really want a hot dog? Angelina Jolie sure does. The 42-year-old actress ventured out to the Target in Los Angeles, California, with two of her six children, daughters Shiloh and Vivienne, in search of processed meat.
But to the trio's chagrin, when they arrived at the discount retailer's Eagle Rock location, there were no hot dogs to be found. Page Six's intrepid "man in aisle five" (Graham Greene would be proud) reported, "The kids were disappointed, so they all left." (It's not clear from the report whether they were among the 40 percent of Target customers who stop by the café while shopping, or if Target hot dogs are their hot dogs of choice.)
Little did they know, it seems, in 2015, Target announced it would begin a rebrand of its cafés, according to USA Today—in place of their self-branded junk food (that is, hot dogs), the chain announced it would introduce "'artisan style' pizzas, fresh salads with ingredients such as kale and edamame, and pressed juices with beet and carrot." A couple Minneapolis, Minnesota stores got outposts of D'Amico and Sons, an Italian restaurant helmed by James Beard-finalist chefs. Others received Pizza Hut or Freshii, and Starbucks remains a staple of many Targets. The Eagle Rock Target in question has both a Starbucks and "café-pizza" according to its site—but, lamentably, no hot dogs. The Jolie-Pitts deserve more from their local Target.
There are, presumably, other locations in Los Angeles to procure hot dogs, though they're likely not as abundant as in New York, where it's a rite of passage to purchase hot dogs boiled in questionably sourced water and wedged in a bun that has sat a little too long in the heavy city air from a street vendor. Some might say hot dogs taste better that way. Some might even be the Jolie-Pitt clan: In 2012, after disembarking a private jet, Jolie and her six children piled into an SUV and pulled up in front of a New York hot dog cart, where a body guard paid $15 (keep the change) for "about seven hot dogs." Plus or minus. Just because you fly private doesn't mean you can't also be a woman of the people.
Fast forward five years, and Jolie and co. are still snacking on hot dogs—when they're not munching turkey legs or churros. However, one new detail did stand out from the Target encounter: Jolie, venturing out with the kids in 90-degree heat, was "totally bundled up in a big sweater." The plot, it thickens.
Related: Post-Separation, Angelina Jolie Tried to Be Normal But Just Couldn't
10 famous actresses, like Angelina Jolie, who cut their hair short for film roles: