Robert Pattinson Goes on a Hot Dog Quest in New Short Film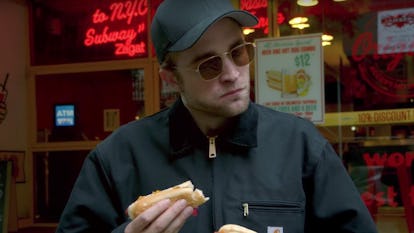 GQ/YouTube
Robert Pattinson is a simple man. He likes to act. He likes hanging in hotel rooms by himself. He thinks minibars are too damn expensive. And he gets hot dog cravings! Stars, they really are just like us.
In this cheeky new video from GQ that the actor wrote himself, Pattinson goes on a stream-of-consciousness quest for one thing and one thing only: a hot dog (or 10) with some fancy toppings after witnessing a man eat one on the street. But it's not that simple, really. See, Pattinson happens to be what you would call a "very popular celebrity," and he's afraid that leaving his hotel will expose him to a flurry of fans and media attention that he doesn't want. Will he successfully leave the premises for a chance to consume that greasy frankfurter goodness? Yes, apparently. The hunger pangs are that strong.
"This city is a labyrinth designed to mock me," he narrates, before putting on a hat, sunglasses, and jacket zipped up to his ears and taking to the streets of Manhattan. "A New York hot dog. The kind that makes you fall in love." And does he make it to his destination, Papaya King? Well, you're just going to have to watch and find out.
As amusing as the video is to watch, in the accompanying GQ profile, Pattinson—who stars in the upcoming film Good Time—was quite candid about how the paparazzi have severely affected his psyche for years, with many photographers camping outside his home for days at a time. "People were like, 'It's fine, who cares?'" he tells GQ. "'They're just photos or whatever.' They'll say, 'Just live your life.' But that's not life for me, if someone's observing it." In fact, the reason he ended up "winning" most of the time in his crusade against the paparazzi is that he would "disappear" if he was being followed, and the photographers couldn't afford driving around looking for him with no guarantee of a shot. In other words, he cracked the code to sanity.
"As soon as I saw a tail, I would just disappear again. It worked after a while. They're just like, 'Oh, the guy is just a hassle,'" he says. "There are ways to disappear, like, fairly easily. But you have to be living a quite strange life. It just involves effort, and most people can't really be bothered to put the effort in."
Related: Good Time Trailer: Robert Pattinson Arrives as an Actor to Take Seriously
See What's Trending in W Video: