ON CRACK TROOPS OF CRAZIES
Robert Pattinson Is "Kind Of" Engaged to FKA Twigs
Because Twilight Fans are "Kind Of" Crazy.
---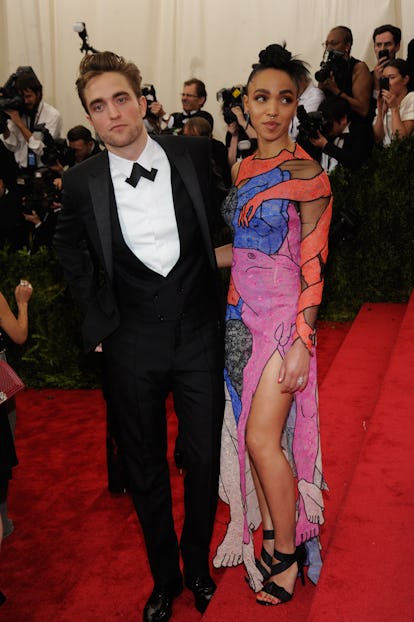 The saga of trying to figure to figure out whether or not Robert Pattinson and FKA Twigs are actually engaged has been quite bizarre, even by notoriously private celebrity standards. After all, it was everyone's favorite auto-tune assisted singer T-Pain who first accidentally broke the news in an interview more than two years ago, and since then the actors and the musician have not publicly commented on the exact status of their relationship.
In fact, this morning Pattinson finally addressed the situation directly on The Howard Stern Show, but may have left watchers more confused than before. He said he's "kind of engaged." Whatever that means.
Pattinson and Twigs (AKA Tahliah Debrett Barnett) were first publicly spotted together back in September 2014. In an interview with Vulture (that incidentally was published on April Fool's Day 2015), T-Pain related that his upcoming collaboration with Twigs had been called of because, "she's engaged now …to ol' Patty."
"I don't know if she wanted anybody to know that …" he quickly added.
After publication, Pain tried to claim that it was an April Fool's joke, but by the end of the day People's sources confirmed that the pair were indeed engaged by the end of the day. Eventually a ring was spotted on Twigs' finger, but there's been little public clarification in the years since.
Well, Stern decided to get to the bottom of it.
After referring to Twigs as Pattinson's fiancée, he stopped himself to make sure that that was indeed the case. "You're engaged, right?" he asked.
"Yeah, kind of," replied Pattinson.
"Kind of! Wait till she hears this," said Stern. "You're one of those secretive guys with the relationship. Protective."
Pattison then explained why he isn't exactly public with his relationship.
"It's one of the most frustrating things in the world, because you want to be able to [be open and public], but to get kind of stuck in a position where, like, you have to make the decision," said Pattinson. "Do you want to let, kind of, crazy people in, because for whatever reason with Twilight, there's like, a crack troop of crazies who think every decision you're making is creating some kind of conspiracy."
"So you kind of think, to protect it, I want to create a big boundary between it, but then it makes it difficult for your actual relationship."
Pattinson had spoken out against racist online bullying directed at Twigs during the course of their relationship.
Though, it seems like things are good between the pair now. They were last seen in public at the Cannes Film Festival, and Pattinson gushed about her singing and songwriter talents to Stern.
Pattinson, meanwhile, is out and about promoting his upcoming turn in Good Time, a film that won him rave reviews at Cannes and, if all goes well, may establishing him as a respected actor well beyond the crack troop of crazies in the Twilight fandom.
Related: Exclusive: FKA Twigs's Zine For Nike Featuring 12 Unconventional Athletes
See What's Trending in W Video:
Robert Pattinson and FKA Twigs. Photo by Getty Images.
Grace Jones. Photo by Getty Images.
Bip Ling. Photo by Getty Images.
Henry Holland. Photo by Getty Images.
Amber Atherton. Photo by Getty Images.
Harriet Verney. Photo by Getty Images.
Phoebe Collings-James. Photo by Getty Images.
Tessa Kuragi. Photo by Getty Images.
Aimee Phillips. Photo by Getty Images.