Angelina Jolie Used to Have a Little Bit Of a Crush on Michelle Pfeiffer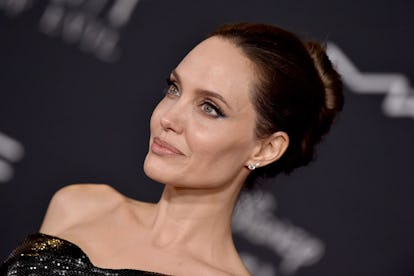 Axelle/Bauer-Griffin
Angelina Jolie–actress, director, humanitarian, adopter of many children–revealed that when she was a teenager, she had a crush on her Maleficent: Mistress of Evil co-star Michelle Pfeiffer. During an interview with Access, Pfeiffer, Jolie, and Elle Fanning were asked about their teenage crushes. Pfeiffer went for 1960s teen idol Bobby Sherman, Jolie with "Brando in Streetcar," and Fanning selected John Travolta's Danny Zucko from Grease.
Pfeiffer starred in Grease 2. And so Jolie leaned over, and told the actress "I loved you in Grease."
"Was I your teen crush?" Pfeiffer asked.
"I definitely was into you when you sang 'Cool Rider,'" Jolie replied. "You were very hot."
And Jolie wasn't done! "Scarface," she muttered. "I also had a big crush on you then." Who didn't?
We respect Jolie attempting to go for it here. Pfeiffer has been quite happily married to Ally McBeal and Big Little Lies showrunner David E. Kelley for 25 years now, but it is Angelina Jolie and all! What a gorgeous couple they'd be.
While Jolie tends to land in the spotlight for her relationships with men, as Out notes, the star is a "bi icon." She dated Calvin Klein model Jenny Shimizu (who also had relationships with Madonna and Ione Skye) seriously in the 1990s. In a 1997 interview with the now-defunct Girlfriends magazine, Jolie said that she "probably would have married Jenny Shimizu if I hadn't married my husband. I fell in love with her the first second I saw her."
Jolie goes on to say that she's glad to be a sex symbol for both men and women, because "I love men and women."
In a 2003 interview with Barbara Walters, Jolie addressed her bisexuality. 'I consider myself a very sexual person who loves who she loves, whatever sex they may be," she said. "I wasn't looking to have a relationship with a woman. I was surprised when I suddenly found myself having these feelings I always had for men, but for a woman, and wanting to kiss her and wanting to touch her … I feel if I fell in love with a woman tomorrow, would I … it's OK and it's right to want to kiss her and touch her if I fell in love with her in that way? Yeah."
Jolie has not been in a public relationship since divorcing Brad Pitt.