Angelina Jolie Shares What Queen Elizabeth II Has Taught Her Kids
The actress and humanitarian opens up about her relationship with the Queen.
---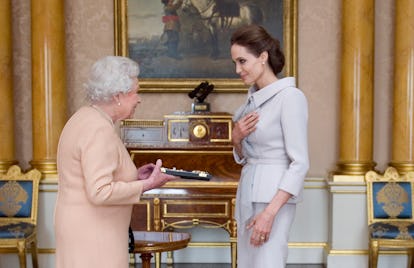 Anthony Devlin – WPA Pool/Getty Images
Angelina Jolie and Brad Pitt's children are still just inching toward adulthood, but they're already budding humanitarians. Just this past year alone, the actress and activist has taken Zahara and Shiloh Jolie-Pitt to meet with Syrian refugees. She's brought them to Paris, where she advocated on behalf of Syrian refugees once again with the first lady of France, Brigitte Macron. She's also spoken about teaching her daughters to lead "a life of service." She has even spoken to them about the importance of environmental conservation, as she does in the new ITV documentary The Queen's Green Planet.
While doing so, Jolie revealed what her kids have learned from Queen Elizabeth II. On a visit to Namibia, Jolie explains, "For us to come here and say to the children, 'This is why it's important to plant a tree,' that's the biggest message I can teach my kids, and it's something that they've certainly learned from Her Majesty and her message."
"They ask me, 'Why is it so important to her?'," Jolie, who was made an honorary dame in 2014 by Queen Elizabeth II, says. "You know when you sit up at night in a tent with your kids and they say, 'Why does the Queen of England care about planting trees in Africa?'"
Her response? "What it comes down to is you say to the kids, 'You know really, you don't know her, you can't understand all that it means to be a queen and all that'," she says. "But you try to say, 'You know she's just this really lovely lady who really cares about people around the world, and she really cares about the future, and she wants your grandkids and her grandkids to be able to be running around, enjoying nature and other cultures, and the importance of other cultures.' She thinks that really matters and I agree with her."
The advice echoes the values Jolie has tried to instill in her children before. "I tell my daughters, 'What sets you apart is what you are willing to do for others,'" she said at the beginning of February. "'Anyone can put on a dress and makeup. It's your mind that will define you. Find out who you are, what you think, and what you stand for. And fight for others to have those same freedoms. A life of service is worth living.'"
Related: Angelina Jolie Brought All Six Kids to Her Film Premiere