Yes, Anja Rubik Still Has That Famous, Hip Bone-Baring Anthony Vaccarello Dress From the 2012 Met Gala In Her Closet
"It's a very sentimental piece."
---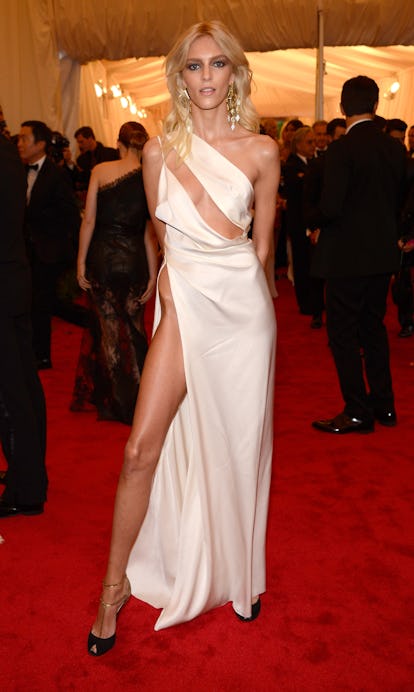 Kevin Mazur
There are few people who have nailed casual, but incredibly sexy style with as much ease as Anja Rubik. Since making her runway debut nearly two decades ago, the Polish model has long been the epitome of effortless glamour, both on and off the red carpet. The blonde beauty is often seen in classic, streamlined pieces that marry a sense of timeless charm and complete modernity. It's no wonder that she was tapped to be the face of Menē, a jewelry brand that instills the very same ideals into its classic designs. Here, the model talks about her own jewelry collection, and names her favorite red carpet look to date.
How would you describe your personal style?
I consider myself a modern woman with a free spirit; my style reflects that and is also a mix of tough and feminine. I like modern classics with a sexy twist. It usually depends on my mood, but I'm attracted to pieces that have an attitude, interesting details. It's also important that I'm comfortable. I love an effortless ease to any look. I like classic colors that are easy to mix and will stand the test of time.
What are your favorite pieces that you wore on the shoot?
The gold stacking cuffs polished and the linear link necklace.
What was your first memory of jewelry?
A gold chain with three charms on it: a heart, a cross, and an anchor. It was a gift from my grandparents, for love, protection and stability.
What is your favorite piece of jewelry that you own?
My great-grandmother's gold bracelet that I inherited.
What is the last piece of jewelry that you bought?
Menē's wave stacking ring set.
Who is your ultimate style icon?
In general, I appreciate women with a strong sense of self and individuality. PJ Harvey, Patti Smith, Debbie Harry, Jane Birkin…
What is your favorite red carpet outfit that you've ever worn and why?
Anthony Vaccarello's red leather dress that I wore to the Met Gala in 2013; the theme of the gala was punk, so I decided to go a bit glam punk. Also the black short Saint Laurent dress I wore in Cannes on the red carpet last year. Both chic but with some wild element.
What is the most prized possession in your closet?
The white dress I wore to the Met Gala in 2012 designed by Anthony Vaccarello. It's a one of a kind; he was asked to replicate it many times but always refused. It's also a very sentimental piece, because it was at the beginning of my friendship with Anthony, and the first dress I asked him to make for me.
What is the last fashion item you purchased?
A Céline black sweater with bell shaped sleeves
Where are your favorite places to shop?
Paris, the capital of fashion, and online.
Related: Saint Laurent Muse Anja Rubik Strips Down for Legendary Photographer Nobuyoshi Araki
Anja Rubik Stars in a Daring New Video for Mary Komasa's "Lost Me"