Ann Curry Does Not Gloat, Addresses the Matt Lauer Downfall with Total Grace
Curry was a class act in addressing the scandal around Lauer, who was largely responsible for her dismissal from "Today."
---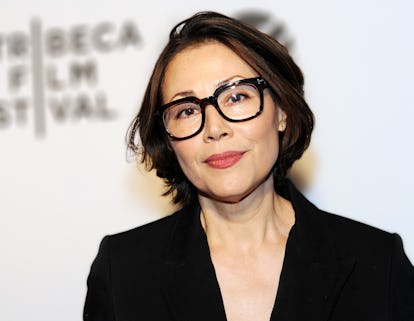 Desiree Navarro
After it was announced Wednesday that longtime Today anchor Matt Lauer had been fired by NBC following a report of sexual misconduct (and perhaps in advance of a reported feature to that effect), many people thought of the, in some ways, parallel career of former veteran anchor Ann Curry, who worked at Today for decades before being somewhat unceremoniously fired after just over a year of co-anchoring with Lauer.
Now, as part of a previously scheduled interview with People (to promote her new show, We'll Meet Again) Curry has addressed the scandal and spoken eloquently about workplace harassment across industries. On the topic of Lauer, specifically, Curry was understandably vague, saying, "I'm still really processing it." She may have more to say as more information comes to light; Lauer's apology was scant on details as well. Curry's thoughts on sexism in the workplace, however, were loud and clear:
"The women's movement got us into the workplace, but it didn't make us safe once we got there…And the battle lines are now clear. We need to move this revolution forward and make our workplaces safe. Corporate America is quite clearly failing to do so, and unless it does something to change that, we need to keep doing more ourselves…I admire the women who have been willing to speak up both anonymously and on the record. Those women need to keep their jobs, and all women need to be able to work, to be able to thrive, without fear. This kind of behavior exists across industries, and it is so long overdue for it to stop…This is a moment when we all need to be a beacon of light for those women, for all women, and for ourselves."
Curry is right to redirect the focus of the conversation to the failing of corporate America at large and the vulnerability of women across workplaces. This is not a case of a select few, powerful men taking advantage of highly visible women; it's a symptom of a culture that not only allows but promotes sexism and sexual misconduct. The women who are speaking up are those fortunate enough to have the resources to do so, but they are far from the only victims, and we should all heed Curry's advice to use this cultural moment to reflect on how the less advantaged can be better served in bringing mistreatment to light.
Related: NBC's Sudden Firing of Matt Lauer for Sexual Misconduct Probably Wasn't So Sudden After All
How Artists Today Are Mocking Donald Trump
Peter Saul, Quack-Quack, Trump, 2017.

Mary Boone Gallery
Peter Saul, Donald Trump in Florida, 2017.

Mary Boone Gallery
Jim Shaw, Trump Distortion #4, 2017.

Metro Pictures
Jim Shaw, Trump Distortion #1, 2017.

Metro Pictures
Jim Shaw, Trump Distortion #2, 2017.

Metro Pictures
Jim Shaw, Trump Distortion #3, 2017.

Metro Pictures
Jim Shaw, Small Trump Chaos I, 2017.

Metro Pictures
Jim Shaw, Large Trump Chaos I, 2017.

Metro Pictures
Nina Chanel Abney, COP, 2017.

Mary Boone Gallery and Jack Shainman
Nina Chanel Abney, White River Fish Kill, 2017.

Mary Boone Gallery and Jack Shainman
Mathieu Malouf, Donald, 2017.

Greene Naftali, New York. Courtesy the artist and Greene Naftali, New York
Mathieu Malouf, installation view of "Toxic Masculinity Fallout Shelter," 2017.

Greene Naftali, New York. Courtesy the artist and Greene Naftali, New York. Photo by Martha Fleming-Ives
Mathieu Malouf, installation view of "Toxic Masculinity Fallout Shelter," 2017.

Greene Naftali, New York. Courtesy the artist and Greene Naftali, New York. Photo by Martha Fleming-Ives