NBC's Sudden Firing of Matt Lauer for Sexual Misconduct Probably Wasn't So Sudden After All
The network may have used its female anchors as mascots for their surprise and regrets, but it looks like they knew about investigations for months.
---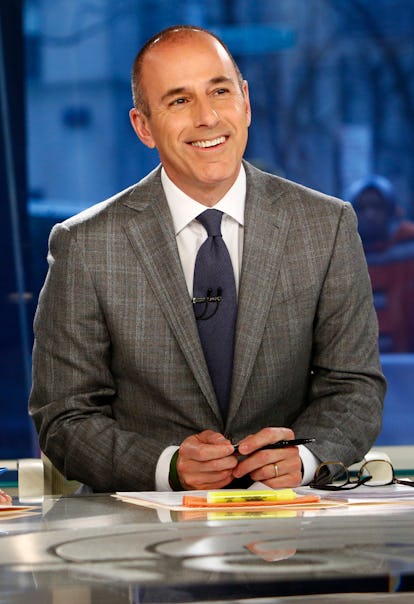 NBC NewsWire/Getty Images
Without any warning or prior indication whatsoever, early on Wednesday morning the news came that NBC had fired its leading morning news anchor Matt Lauer over a sexual harassment allegation, in response to a complaint they received from one of Lauer's colleagues on Monday. While it was the first complaint they've received in his 20-plus-year tenure at the network—and one that came to their attention less than two days earlier—it also came along "with reason to believe this may not have been an isolated incident," as NBC News chairman Andy Lack explained in a memo to staff.
The latter is likely the case—predators, especially those in power who are used to abusing it, aren't usually ones to target a single victim—but Lauer's behavior doesn't appear to have been an "open secret," like that of Kevin Spacey and Harvey Weinstein. In fact, judging from the reactions, the anchor seems to have managed to keep his conduct under the radar from the majority of his colleagues, or at least the most high-profile ones. Lauer's co-host, Savannah Guthrie, for example, said on air on Wednesday morning (because of course the show must go on) that "we just learned this just moments ago, just this morning. As I'm sure you can imagine, we are devastated and we are still processing all of this. I will tell you right now we do not know more than what I just shared with you, but we will be covering this story as reporters, as journalists. I'm sure we will be learning more details in the hours and days to come, and we promise we will share that with you."
A source from the show echoed Guthrie's sentiments, which she shared apparently on the verge of tears, to People: "It's like a death in the family. Everybody is crying. No one knows what the f— happened. It came out of nowhere." Indeed, Guthrie, who grasped her fill-in co-anchor Hoda Kotb's hand at the beginning of the segment, added: "We're processing it with all of you at home, and we promise to be transparent and be straightforward and continue this important conversation." The shock waves even made its way into the show's weather report: Al Roker first described his surprise of learning the news about "our friend of 30 years," before uncomfortably getting on with his job: "Let's give you a quick look at what's going on as far as our weather is concerned."
Guthrie, Kotb, and Roker may have been acting honestly, but if so, they were kept in the dark by NBC. While NBC's announcement was first notable because, as the New York Times pointed out, it's one of the few examples of a company acting preemptively, before any sexual harassment or misconduct allegations went public. But that's beginning to look less and less like an admirably fast-moving decision to take action against one of the network's biggest stars and much more like an attempt to save themselves from the backlash of the reported two investigations in the works at the Times and Variety that NBC News knew about—for quite a while, if it's indeed true that Variety had been working on theirs for the last two months.
Page Six backed up CNN host Brian Stelter in the report that those stories had been in the works for some time, adding that the incident in question that reportedly led to Lauer's firing in fact took place all the way back in 2014, at the Sochi Winter Olympics. Of course, NBC isn't alone in confronting the fact that their own employees are guilty of the abuse they've been reporting on as of late: CBS recently fired Charlie Rose after multiple sexual harassment allegations, NPR recently fired its head of news, Michael Oreskes, for similar reasons, as did the New York Times, which recently suspended star political reporter Glenn Thrush.
It's worth noting that Weinstein's fall was aided by reports in the New Yorker—which included audio of him begging an actress to come into his hotel room, and evidence that he employed a literal army of spies to keep his victims silent—written by Ronan Farrow, who has an investigative show on NBC. Originally, he meant to break the story with NBC, but NBC News president Noah Oppenheim reportedly told him to abandon it for lack of evidence.
What's more, this isn't the first time Lauer, who's one of the highest-paid men in TV news and reportedly makes $25 million a year, has been accused of misogyny. In a story titled "Matt Lauer Has Always Had Problems With Women on the TODAY Show," Time took care to point out that Lauer was widely thought of being responsible for his co-host Ann Curry's departure from the show in 2013, and has faced criticism for interviews like when he greeted Anne Hathaway by saying that he'd "seen a lot of you lately," referring to a recent revealing paparazzi photo, and asking her "the lesson learned from something like that," as well as when he repeatedly interrupted Hillary Clinton and let Donald Trump dominate the conversation in a joint interview with the presidential candidates during the 2016 election.
With the exception of Katie Couric, Lauer's co-anchor for over a decade, saying that his most annoying habit was that "he pinches me on the ass a lot" in a clip that's now resurfaced from 2012, none of these instances are remotely as serious as sexual assault. But they do suggest that NBC may—like many other networks and companies—be home to a culture that would rather sweep sexual harassment under the rug, despite their assurances that the network's "highest priority was to create a workplace environment where everyone feels safe and protected, and to ensure that any actions that run counter to our core values are met with consequences, no matter who the offender."
Perhaps the network should be more transparent with its employees, particularly if they're women, about the allegations swirling inside its own roof. While Guthrie telling viewers that "for the moment, all we can say is that we are heartbroken," and Kotb adding that "this is a very tough morning for both of us" was no doubt effective in creating sympathy for the show, it may ultimately reveal them as mascots parroting empty statements if NBC News is found to have known for some time about allegations against one of its biggest stars.
Related: The Absolute Worst Apologies By Men Accused of Sexual Assault Post-Harvey Weinstein, Ranked
62 Fashion Insiders Speak Out in a Powerful Video for International Women's Day: