Fashion Editor and Street Style Star Anna Dello Russo Is Selling Off Her Wardrobe
Out with the clothing, in with the relationship.
---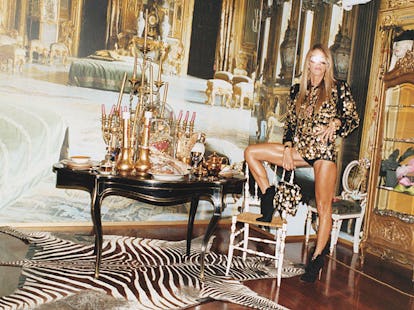 Photographer: Juergen Teller
Fashion editor, accessories queen, and street style star Anna Dello Russo just announced that she is selling 150 pieces from her decades-deep clothing archive in a flash sale via Net-a-Porter's Instagram Stories on February 25. And for cheap, too. "Net-a-Porter prices will start from £15 for accessories and reach £700 for outerwear, with all proceeds donated to the British Fashion Council Education Foundation," reports Vogue UK, adding that there will also be an auction at Christie's on February 24 of "30 of her most-precious archive pieces."
The pieces up for sale on Net-a-Porter are from the "Noughties" (what Brits call the aughts, AKA from 2000 to 2009), which Dello Russo called her "real street-style era" and will feature her "best flashy, splashy items." But not her favorites, because she doesn't have favorites when it comes to clothes. "It's…like children. You want to say my daughter is better than her brother? No!" explained Dello Russo.
What could inspire the iconoclast to suddenly pare down? Love, naturally. Though she's traditionally kept a second apartment just for clothes and a "bonus remote archive," Dello Russo's boyfriend Angelo Gioia didn't think holding on to every last item was such a hot idea. "When I met him, I asked, 'Angelo, where should I put my clothes?'. He said, 'No space, sorry!' And I knew in that moment that I had to give space to life," she told Vogue UK.
This is a change for Dello Russo, who in 2010 told W that sharing her closets contributed to the demise of her relationship with her ex-husband, whom she wed in 1996. "It barely lasted," she told writer JJ Martin of her marriage. "He said, 'Isn't there some closet space for me?' And I said, 'No.'"
Go Inside Anna Dello Russo's Apartment-Cum-Closet
Dello Russo has never met a leopard she didn't like. The entire bedroom (and bed) in apartment number one is covered in bolts of spotted silk. Dolce & Gabbana bodysuit.

Photographer: Juergen Teller
Christian Louboutin high-heeled fox booties and a superslick Comme des Garçons for Speedo bathing suit are not standard yoga gear, but who are we to argue?

Photographer: Juergen Teller
In her gold coin–encrusted Dolce & Gabbana suit, Dello Russo is just as gilded as the extravagant Palazzo Gangi scenery in apartment number two.

Photographer: Juergen Teller
Every inch of Dello Russo's home is decorated. "I hate white walls," she says, unnecessarily.

Photographer: Juergen Teller
As slim as one of her nonslip hangers, Dello Russo wears an Yves Saint Laurent hat and transparent cape and a Dolce & Gabbana bra and briefs. Her Chinatown hair mannequins (wearing Philip Treacy hats) look on from above in apartment number two.

Photographer: Juergen Teller
Dello Russo's Roksanda Ilincic suit gives her the air of a dark angel. The 19th-century Italian sofa is covered in vintage leopardskin.

Photographer: Juergen Teller
Watch: How Street Style Stars Do Paris Fashion Week
Related: Anna Dello Russo Does H&M