Anna Dello Russo: Little Miss Maximalist
Italian stylist Anna Dello Russo pushes fashion to the extreme—not just in her work but in the way she lives. J.J. Martin visits her apartment-cum-closet.
---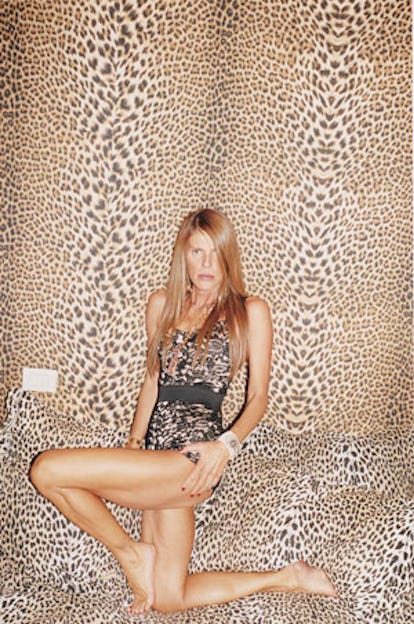 On the second floor of an early-1900s apartment building in Milan sits a Chanel doormat that is shared by two adjacent one-bedroom apartments. The first belongs to 47-year-old fashion director Anna Dello Russo. The second belongs to her clothes—and if you are, say, a crystal Miu Miu stiletto or a leopard-print Lanvin dress, you've got all the trappings of an aristocrat in preunified Italy.
The furniture in apartment number two is 19th-century Italian, and the space is filled with a pirate's booty of glittering designer shoes and costume jewelry. The walls are covered in blown-up photographs of the grand, gilded interiors of Palermo's Palazzo Gangi, the location for Visconti's Il Gattopardo; the one concession to modernity is the green marble bathroom and its updated plumbing. "You never know when the clothes might need a bath," Dello Russo says.
Such a living arrangement might be considered unusual by anyone who didn't own 4,000 pairs of shoes and 250 black tuxedo jackets and wasn't 100 percent fueled by fashion. "Anna would eat clothes if she could," says Sophie Djerlal, a colleague at Vogue Italia, where Dello Russo was a fashion editor in the Nineties.
Back then Dello Russo was, in her own words, dressing "like a man." But now, having helmed L'Uomo Vogue and served as fashion director of Japanese Vogue, she has morphed into Miss Maximalist—picture the ballsiness of Lady Gaga and the inventory of Imelda Marcos rolled into one supercharged style hurricane. During Fashion Week in Milan, she changes (usually in her chauffeured car) into rare-bird-of-fashion outfits no fewer than two or three times a day. In such getups as a gold sequined minidress by Emilio Pucci at three in the afternoon and a Roksanda Ilincic suit with huge feather humps that conjure a dark-angel linebacker, Dello Russo has become the crowned queen of street-style bloggers, who know that what she wears is likely to be bigger, bolder, and more trendsetting than what will be on the catwalks. "She truly loves fashion," remarks Scott Schuman, whose Sartorialist blog ardently chronicles the stylist. "What makes her unique is that there's a real sincerity. She respects the clothes."
Dello Russo's fixation came early, and from out of nowhere. "I was crazy about fashion from the day I was born," she says. As a child in Bari, where she grew up with a psychiatrist father and a not-clothes-obsessed mother, Dello Russo stalked her friends' mothers' closets and tortured her Barbies with relentless restylings. Her first important spree was at age 13: a Fendi handbag, umbrella, tissue holder, wallet, and key chain that she wore all together. "It never rains in Bari, so my friends asked, 'What are you doing with the umbrella?' And I said, 'How should I know? It's part of the look!'"
By high school she was a full-fledged slave to fashion. Once, she wore a pair of yellow shoes that her cat had used as a litter box the night before. They were instrumental to her preplanned all-yellow outfit, so she just rinsed them out. "But it got hot in the classroom, and there was this terrible stink of cat pee," she recalls. "I had to confess because I didn't want anyone thinking I had peed in my pants. They all screamed, 'Couldn't you have changed your shoes?'"
Such fierce dedication to fashion has only intensified with age. Dello Russo—who keeps her figure like a licorice whip with 6 a.m. swims at the Hotel Principe di Savoia—professes that it takes her "six months" to get dressed. For Fashion Week she will consider only pieces that are strong on shock value and that have never been worn. "The preparation," she says, sighing, "is truly scientific."
Just as rigorously mathematical is the layout of apartment number one, which has also been carefully mapped out to accommodate her rotating ensembles. New purchases get front-row treatment in the main walk-in closet, next to her leopard-print bedroom. A zoolike collection of exotic fur coats ("It's been a bloodbath—furs are my weakness," she admits) is maintained in labeled cloth bags, while a season's lesser models get relegated to nonslip hangers in the nosebleed back row. Once the season ends, everything is cleared out (except for the furs, which are exempt from expiration dates) to make way for new loot. Depending on the evicted item's star wattage, it may go next door, to apartment number two, from which it may or may not emerge. Or it may be exiled to a giant closeted basement: the fashion graveyard. For Dello Russo, if you're not new, you're about as good as dead. "I hate vintage clothes," she says, referring even to last year's Prada. "I love the smell of a new store, not an old dress."
Dello Russo prefers the aroma of retail to the smell of food, too. She installed her polished steel kitchen, roughly the size of a drinks cabinet, in a dim corner off the apartment's main hallway: "I had to choose between a kitchen and more closets, so I took the closets." (A quick survey of the fingerprint-less cupboards reveals a stock of sunflower seeds and San Pellegrino.) She also had to choose between a husband—whom she wed in 1996 in a dress with a 60-foot train designed by his best man, Stefano Gabbana—and more closets. "It barely lasted," she says of her marriage. "He said, 'Isn't there some closet space for me?' And I said, 'No.'"
In her typical easygoing way, Dello Russo laughs at the comedy of the situation. Now her companion in this fashion temple is Cucciolina, a mini­ature pinscher who shares her owner's wiry frame and golden mane but thankfully hasn't attempted to lay claim to any storage space. "The only thing she'll ever wear," Dello Russo says, "is her Hermès dog collar."
Go Inside Anna Dello Russo's Apartment-Cum-Closet
Dello Russo has never met a leopard she didn't like. The entire bedroom (and bed) in apartment number one is covered in bolts of spotted silk. Dolce & Gabbana bodysuit.

Photographer: Juergen Teller
Christian Louboutin high-heeled fox booties and a superslick Comme des Garçons for Speedo bathing suit are not standard yoga gear, but who are we to argue?

Photographer: Juergen Teller
In her gold coin–encrusted Dolce & Gabbana suit, Dello Russo is just as gilded as the extravagant Palazzo Gangi scenery in apartment number two.

Photographer: Juergen Teller
Every inch of Dello Russo's home is decorated. "I hate white walls," she says, unnecessarily.

Photographer: Juergen Teller
As slim as one of her nonslip hangers, Dello Russo wears an Yves Saint Laurent hat and transparent cape and a Dolce & Gabbana bra and briefs. Her Chinatown hair mannequins (wearing Philip Treacy hats) look on from above in apartment number two.

Photographer: Juergen Teller
Dello Russo's Roksanda Ilincic suit gives her the air of a dark angel. The 19th-century Italian sofa is covered in vintage leopardskin.

Photographer: Juergen Teller