Meet Anna of the North, the Tyler, the Creator Collaborator with the Heartbreak Anthems
Anna Lotterud's debut album as Anna of the North comes after a breakthrough success, followed by a crushing break-up.
---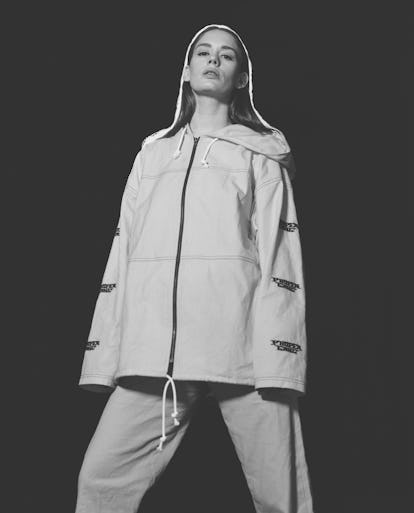 Anna Lotterud loves a slow jam. The Norwegian singer's new record, Lovers, her debut full-length as Anna of the North out Friday, is full of them: Songs like the title track "Lovers," "Always," and album closer "All I Want" smolder with '80s power ballad electricity. Phil Collins-esque drums and plucky synthesizers permeate the music (though less obvious is the influence of Lotterud's idol from the era, Céline Dion).
"I think I'm most creative when I go through hard stuff. It's really hard for me, making something if I'm happy and content; it doesn't really do it for me," she said. "I'm really happy to be able to show more than just the good-vibes-only songs."
It's been just more than three years since Lotterud, now 28, and producer Brady Daniell-Smith released the viral hit and non-slow-jam "Sway" under the name Anna of the North. It had not occurred to Lotterud that music was a viable career path until "Sway" took off—even though music has always been present (her dad was a musician, and those '80s jams he played in the car when she was growing up clearly influenced the sound of Anna of the North) and by age 20, she had acquired a well-outfitted home studio, thanks to equipment she gradually accumulated (also from her dad).
Also when she was 20, Lotterud decided to move across the world from Norway to Melbourne, Australia, on the advice of a complete stranger she encountered at work. It was in Melbourne that she met Daniell-Smith at a small club—during a break in the music, she started strumming a cover of Kings of Leon's "Closer," and Daniell-Smith, who was there playing a set, noticed—and they remained in touch when Lotterud moved back to her native Norway.
"Sway" was among the first singles to emerge from their collaboration; it debuted on Soundcloud in 2014 and was remixed by The Chainsmokers. The American production duo were themselves in the midst of a breakthrough with their viral track "#Selfie," and their endorsement of the track led to the remix being streamed more than seven million times on Soundcloud alone. It took off on its own terms, too. ("And boom, here we are," Lotterud told me last year).
"Sway" also precipitated a collaboration with Tyler, the Creator; Odd Future's Taco heard the track and recruited Lotterud to record vocals for an upcoming Tyler song.
"He just said, 'Hey, can you sing this?' and I was like, 'Yes,' and I recorded it and sent it," Lotterud explained. (When we spoke, it was the morning after Tyler had appeared on The Late Show with Stephen Colbert; Lotterud had been slated to perform with him, but visa complications forced her to bow out at the last minute.) "He was like, 'Hell, yeah, can you do another track?' and I was like, 'Hell, yeah.'" The resulting tracks, "Boredom" and "911/Mr. Lonely," were both featured on his recent, collab-heavy record, Flower Boy, which was released in July.
Last winter, after a series of singles following "Sway"—including "Baby" and "Oslo"—Lotterud and Daniell-Smith went into the studio to begin work on Lovers. Lotterud was in a relationship at the time, but it was nearing its end. As a result, there's an unrequited tension to the songs, especially the title track: "It went really bad for a long time, and I could feel like it wasn't the same energy, and the more he pushed me, the more I needed," Lotterud explained. She compared it to a study she had recently read about drug addiction in mice. "I don't know what it is, but you get addicted and I don't think it's love anymore," she said. "It's an obsession."
But Lovers isn't just about romance; "Lovers" is also how Lotterud addresses her audience, her friends, peers, fans. The word "has something good," she said—and it's a fitting title track, considering it's her favorite on the record.
If she weren't making music, Lotterud still thinks she might have ended up a graphic designer (which she was studying in Melbourne when she met Daniell-Smith). A strong visual perspective, rooted in that training, continues to inform her musical aesthetic. Last year, she was among the artists selected to appear in the Jean-Paul Goude-shot campaign for the Kenzo and H&M capsule collaboration. When we met in New York, she was clad in a Uniqlo turtleneck, a Proper Gang windbreaker (a recent acquisition from the New York outpost of Dover Street Market), and khaki trousers of her own make. She has designed merch, as well as looks for her upcoming tour, with her friend, the designer Mari Nordén, who sews the pieces in Norway. (This may also have contributed to her creative synergy with Tyler, the Creator, considering the rapper and Odd Future member also launched his own label, Golf Wang, in 2011.) And she herself directed the video for "Someone," which debuted in July.
After playing a series of festival dates this summer, Lotterud and Daniell-Smith are about to embark on a European headlining tour, stopping around London, Stockholm, Berlin, Paris—and, of course, Oslo, bringing the musicians back to the place where they started writing Lovers.
"Music has always been there, but you never think you're going to do music," she said, echoing naysaying voices in her head: "You're not good enough; who the f— would listen to me?"
Chris Pine was really into Medieval Times on his birthday: