Five Minutes With Anne Deniau
She was the only person Lee Alexander McQueen trusted to take his portrait: From his turn at Givenchy in 1996 until his untimely death in 2010, Anne Deniau was the designer's close friend and confidant....
---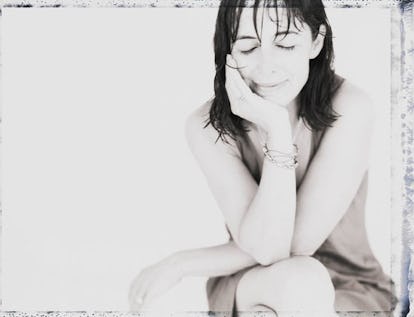 She was the only person Lee Alexander McQueen trusted to take his portrait: From his turn at Givenchy in 1996 until his untimely death in 2010, Anne Deniau was the designer's close friend and confidant. Now she's selected 400 never-before-seen images (from a body of work that numbers more than 30,000) for a new book showing McQueen at work, at play, and behind the scenes of 26 of his epic runway productions. Love Looks Not With The Eyes: Thirteen Years With Lee Alexander McQueen (the title refers to a line from A Midsummer Night's Dream which the designer had tattooed on his right arm) is as much a tribute to McQueen's work as it is an intimate look at a man that many knew but few understood. W spoke with Anne Deniau about her friend, her book, and how the world should remember the late designer.
How in the world did you choose 400 images out of 30,000? Some of them were easy to choose because I knew that Lee especially liked them. As for the rest of it—it's been really helpful to work with his fantastic art director, Françoise Ha Van. I have this wide knowledge of Lee and his universe, along with so many emotions, and Françoise had the same link but at the same time was able to step back and be a real help in editing. We wanted the book to be full of light and full of his vibrant energy. Lots of things have been written about his dark side or his macabre side, and he surely had dark moments like any creative person, but he was a very cheerful, brilliant, and luminous person with many close friends, and we wanted to show this as well.
Is there one photo that encapsulates him? Actually there are three. One, which Philip Treacy just chose for the program for his show last week in London, shows Lee just sitting at home very quietly with his eyes facing the camera—natural, quietly intense; he had such a sharp mind, and you can read that in his pale blue eyes.
There's another of him backstage in a white suit. He really loved that picture and so do I—that's when he was happy, and I think you can feel his energy. And the last one, which was so significant of his work, is a spread where you see him sitting alone in his chair looking at his Polaroids; you feel the movement backstage, but he is 300 percent focused on his work. People forget that being a genius is one thing, but Lee also worked so hard, and he was such a perfectionist.
How would you describe the Lee you first met in 1996? He was not very different. His appearance was different—he was bigger, and he had a shaved head, so he was kind of impressive physically, but very gentle and already very shy. It was a very soft moment when we met.
You have both been described as reserved, quiet. What was it like working together? I think with time we started to joke and laugh together, but at first it was a very intimate and intimidating relationship—but with lots of mutual respect. People can't imagine this right now, but there were many people working at the company, so I would call and [Lee] would pick up the phone and disguise his voice and make jokes—and only after three minutes or so he would say, "Hello, it's Lee!"
How often were you together? I would see Lee every week or two weeks, and apart from that I would perform 99 percent of his portraits. Every time a magazine would ask for his portrait, he would say either "no" or "take Anne."
Being the only person he wanted to take his portrait—that's quite a level of trust. I guess so. He would challenge me, as he would challenge everybody working with him, but always in a very clever, interesting way. He was always pushing people in a very generous way—making things a little difficult so you go further.
Any moments that might surprise people? It's difficult, because there are many which are private. But when he and his team reached the point where a show was exactly as he dreamt it, he was so happy—laughing and smiling. I'm not sure people could see that, because he would take a bow so quickly, but it was just pure joy—like a child, almost.
You still photograph for the design house. How has it changed since 2010? It hasn't changed that much, actually. The people in the studio are almost the same. The first show was so difficult for everybody—including Sarah Burton, of course—but Sarah has been doing such an amazing job. She fully honored Lee's legacy and heritage and everything he taught her, but at the same time she's been fully creative on her own. I don't feel like the spirit of the house has changed, and that's thanks to Sarah.
What would he think of this book—seeing all of the wonderful things he's created and seeing this labor of love you've created? When we were doing the book, I tried to think: If he was sitting next to me, which one would he choose? Which one would he love? What would be important for him? I can't speak in his name, but I sent the book to his brothers and sisters last week and I just received a message from his sister saying, "Thank you. I recognize my brother, the man I knew and the man I love." This is the best thing to hear.
Photos: © 2012 Anne Deniau, From Love Looks Not With the Eyes by Anne Deniau, published by Abrams