Anne Hathaway Explains Why She Won't Be Drinking for the Next 18 Years
"I don't totally love the way I do it."
---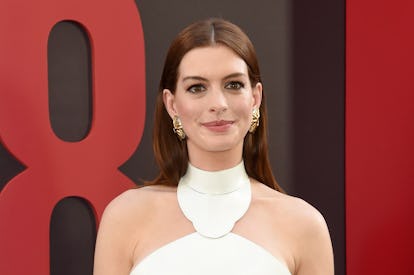 Jamie McCarthy/Getty Images
Anne Hathaway has never had a public reputation as a big partier or drinker. Even so, she didn't love the role alcohol was playing in her life—so she quit cold turkey.
The actress opened up about her decision during an appearance on Tuesday's episode of The Ellen DeGeneres Show. As she explained, the change isn't necessarily permanent, but it will stay in place as long as Jonathan Rosebanks, Hathaway's two-year-old son with husband Adam Shulman, is living under her roof. "I'm going to stop drinking while my son is living in my house, just because I don't totally love the way I do it, and he's getting to an age where he really does need me all the time in the morning," she told DeGeneres.
"I did one school run one day where I dropped him off at school; I wasn't driving, but I was hungover and that was enough for me," Hathaway continued. "I didn't love that one."
The 36-year-old also shared a story about another time drinking impacted her daily life, culminating in a hungover business meeting after a night out with Matthew McConaughey, her costar in the upcoming film Serenity, and his wife, Camila Alves. "We drank the night away, and then I had to go to a meeting with Steven Knight, our director, the next day, and I was just kind of…have you guys ever had to go to a meeting hungover?" Hathaway asked the audience. "I was just kinda stumbling in with one eye open, and I was trying to convince him about certain things about my character."
"And at the end of it I said, 'Listen, I have a confession. I was hungover the entire time.' And he just goes, "Oh, really? I couldn't tell,'" Hathaway said. "Then two days later we had another meeting and I showed up and he said, 'Oh, now I can tell.'"
See the full interview, below.
Related: Anne Hathaway Fights Off Instagram Anxiety With Literal Fire