Anohni, Anohni, Anohni: Watch Her New Video Starring Naomi Campbell
Nabil, the director of "Drone Bomb Me," reveals what it's like to work with the model, Riccardo Tisci, and the artist formerly known as Antony Hegarty.
---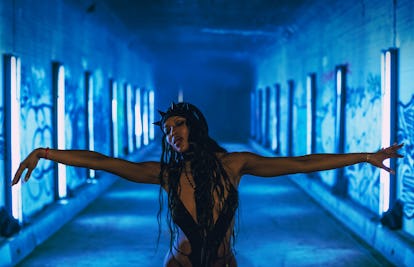 When you name a song "Drone Bomb Me," as Anohni, the singer formerly known as Antony Hegarty, has done, you expect some equally provocative visuals. And the music video for the single off Anohni's upcoming album Hopelessness (out May 6), as directed by longtime collaborator Nabil (with artistic direction by the equally loyal Riccardo Tisci), is striking: Naomi Campbell faces the camera, mouthing the song in a bare, dark room (and Givenchy, of course), as six black male dancers slither around her. But at first glance, the visuals —not to mention the electronic dance beat and swooning vocals — don't seem to really convey the horror of drone attacks in the Middle East. That is, until you pay closer attention to the lyrics: "Explode me from the mountain into the sea/Choose me tonight, choose me tonight." As tears stream down Campbell's face, she continues to plead, it would appear, to be put out of her misery. In an interview, Nabil – a filmmaker who's worked with Anohni's former band, Antony and the Johnsons, Kanye West and Frank Ocean – discussed the making of the video, which was released today on Apple Music.
The video is incredible. How did you, Anohni, and Riccardo come to work together? I worked with Anohni on her last video, "Cut the World." When the new album came through, and I sat down and fell in love with the whole thing. She told me that she and Riccardo had this idea for "Drone Bomb Me," with Naomi [Campbell] singing the song. I was like, "Um, yeah. I'm into that."
I'm not sure how qualified you feel to answer this, but how would you describe the overall message of the song? Yeah, I prefer Anohni to explain more, but in general the whole album has a very political standpoint, especially with what's going on with America's involvement in the Middle East and across the world. It's from the point of view of a little girl saying, "Take me." There's so much psychological drama that happens in these regions, it's kind of a plea. And there are parallels with the dancers which came after the fact — with what's happening in America, from Ferguson onwards.
Is that why you cast all black dancers? Not really. It always came from Riccardo and Anohni that these would be black dancers. I think just the evolution of their dance and movement, it became something bigger and more important through the video. I think a lot of what I like to do as a director, and what Anohni and Riccardo want, is to make something that people can interpret, and take from, as they wish. To not be too heavy-handed.
The lyrics are a little ambiguous in that sense. Yeah, I think most of Anohni's words are not quite like, um, "Hotline Bling." Or I guess they are, in the sense that, you know, take from it what you will.
I think we all had a pretty clear interpretation of "Hotline Bling." Exactly.
The song still sounds romantic and swoony, like you would expect from her. Of course, and that comes from the way Antony presents herself. I mean Anohni. [laughs]
I'm having trouble with that, too. [laughs] Yeah, I've known Antony as Antony forever. Now it's Anohni, Anohni, Anohni. I actually slip up all the time. She's very quick to snap at me.
What was Tisci's vision as artistic director? The initial concept, to be honest. Which is rare, because usually I have my own concepts. But as I said, when this came through, I was like, "Hell yes." [laughs] Plus Riccardo contributed everything from styling to look to color tone — what you would expect from him, honestly. Of course, Naomi was wearing Givenchy. [laughs] Not the dancers, though. The dancers were wearing no shirt or simple, black clothes that looked almost military-esque.
Hmmm. Yeah. Leaving the interpretation open-ended. We didn't want to distract from the dancers as people. Each dancer we chose had an amazing face.
Some of Antony's videos in the past, as Antony, have been a little more baroque. "Drone Bomb Me" is very spare. Why so stripped down? Because we had Naomi. She's an amazing actor; she's truly crying in the video. She came through with force.
The choreography was also very powerful, but not super deliberate. We spent the day before the shoot on choreography. But on the day of, we just let the guys be themselves and move around. These are a lot of dancers that have never been together. And we saw the way the energy came together on set. It was all different styles. There were two guys who are bone-breakers. There was three different styles of dancers, which you couldn't even really tell when they were all together. It was just six guys moving to the beat.
Being of Iranian descent, are you especially sensitive to the drone issue? It's not just that. I've done a lot of photography in war-torn regions earlier in my career, from Somalia to Palestine. I've never been to Iran, but I do identify as half-Iranian. I'm very opinionated, and it's hard not to put that into my work.
It does feel like a lot of artists are tackling these issues in their work. Even someone like Beyonce is confronting Black Lives Matter. Well, some people go into it much deeper than others. Anohni is so smart, we talk about these things weekly. "Drone Bomb Me" is not the only political song on the album. It's called Hopelessness, and it hopefully serves as a wake-up call. The beauty of the album is in the juxtaposition: You have these beautiful songs with a dance beat, and they're talking about the headiest issues happening now.
Photos: Anohni, Anohni, Anohni: Watch Her New Video Starring Naomi Campbell
Photo by Nabil from Anohni's "Drone Bomb Me" video. Directed by Nabil. Art Directed by Riccardo Tisci. Courtesy of Apple Music
Photo by Nabil from Anohni's "Drone Bomb Me" video. Directed by Nabil. Art Directed by Riccardo Tisci. Courtesy of Apple Music
The cover of ANOHNI's HOPELESSNESS, out May 6 on Secretly Canadian.