Beat the Clock
This fall, beauty companies are forgoing one-hit-wonder creams for complete skincare lines that address aging from every angle.
---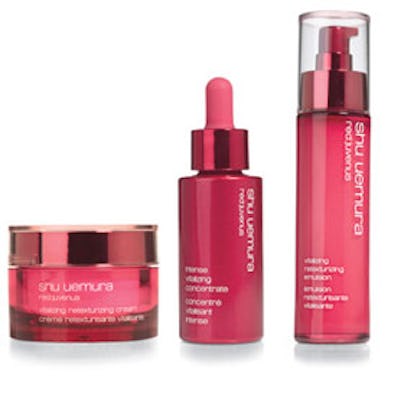 Starting Young A mighty trio—the Japanese herb amalaki and better-known antioxidants lycopene and pomegranate extract—are the active ingredients in Shu Uemura's Red:Juvenus Skin Rejuvenating program. Created to combat the early signs of aging—those fine lines and spots that first show up in the late 20s and 30s—Red:Juvenus aims to protect the skin's moisture barrier from environmental aggressors such as smoke and pollution. The line includes the tonerlike Vitalizing Refining Lotion; Intense Revitalizing Concentrate, which contains the highest concentration of antioxidants; two moisturizers; and Line-Reducing Eye Essence. $40 to $85; shuuemura-usa.com
Stress Case Shiseido is hoping to target skin cells taxed by pollution and dried out by the sun with its latest line, Future Solution LX. Scientists at the company identified a protein, Serpin B3, that is abundant in damaged cells. They developed Skingenecell 1P, an amino acid derivative that decreases Serpin B3, leading to smoother, more hydrated skin, and made it the centerpiece of the line. The Concentrated Balancing Softener, Daytime Protective Cream SPF15 and Total Regenerating Cream contain varying amounts of Skingenecell 1P, as well as a cocktail of antiaging extracts: cell-strengthening ononis plant, antioxidant uji green tea, and collagen-boosting star fruit and okra. $55 to $260; shiseido.com
A New Leaf Based in Athens, Greece, Korres is out to prove that natural ingredients can accomplish as much as their synthetic counterparts. Its Quercetin & Oak Antiaging & Antiwrinkle collection—Day Cream for normal to combination skin, Day Cream for normal to dry skin, and Night Cream—uses oak tree–derived quercetin to increase collagen production and promote skin-cell turnover. $48 to $52; at Sephora.
Delicate Cycle Those with sensitive skin are often faced with a conundrum: Are the benefits of an antiaging product worth possibly irritating one's complexion? New York derm Pat Wexler, whose own skin is easily agitated, is addressing both issues with Patricia Wexler M.D. Dermatology Anti-Aging for Sensitive Skin. The line includes a gentle exfoliating peel, a rarity for those who blush at the mere sight of scrubbing beads (there are none in Wexler's formula). Antioxidant-rich serum and day and night creams contain Sym-Relief Redness Reducing Complex, with chamomile and ginger; Sym-Calming, a soothing oat-derivate; and Skin Regenerating MMPi-20, which purports to mimic in-office collagen- and elastin-boosting light treatments. Wexler's hope: Her customers will no longer have to choose between avoiding a rash or preventing a wrinkle. $34.50 to $55; bathandbodyworks.com
Petal Pusher The changing balance between complexion-firming estrogen and moisture-zapping androgen is a major factor in skin's aging. Aimed at women over 50, Guerlain's Success Age Splendid collection contains magnolia concentrate, a floral-based ingredient that, the company asserts, diminishes androgen receptors in the skin, letting estrogen have an increased influence. The intended result: plumper, more elastic, younger-looking skin. The line consists of the whipped cream–textured Face, Neck and Décolleté day cream; a richer, thicker night balm; and Face, Neck and Décolleté serum, which can be worn alone or under one of the other products. $170 to $185; at Saks Fifth Avenue.
Lympho Maniac Operating on the theory that skin cells can't function optimally when the lymphatic system is clogged due to environmental toxins and stress, Clé de Peau Beauté created MACC (Methyl Aminomethyl Cyclohexane Carboxamide HCI), a synthetic molecule that, according to the Tokyo company, promotes healthier lymphatic vessels. MACC is the featured ingredient in Clé de Peau Beauté's Synactif line, though the collection—a bar soap, a postcleansing Softening Lotion, Daytime and Nighttime moisturizers and the pricey Intensive Cream—also boasts antioxidants such as green tea and vitamin C. $100 to $1,000; at Barneys New York.