Anyone Thirsty? Scott Studenberg and John Targon of Baja East Have You Covered
The boys behind New York-based fashion brand Baja East, beloved by the likes of Lady Gaga and Teyana Taylor, now have their very own red wine blend called, appropriately, Thirsty.
Photographs by Brad Ogbonna
---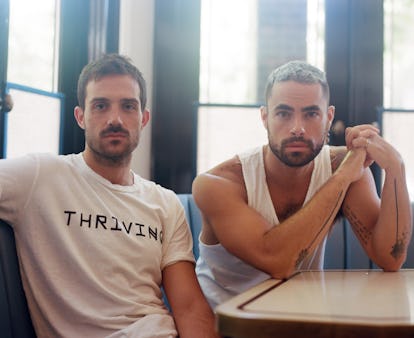 "All of our friends in fashion are pretty thirsty because they like to drink," Scott Studenberg said one recent afternoon at the Chelsea headquarters of his and John Targon's men's and women's clothing line Baja East. "Even the ones who don't drink are really thirsty because they are posting naked selfies of themselves."
He was speaking literally, but also making a playful reference to his and Targon's new wine, aptly named, well, Thirsty. "I posted a thirsty photo on Instagram last night when I was at the gym. I was thirsty for attention. It's funny like that, but also funny like you are literally thirsty for red wine," Targon added. "Literally, I needed it in my mouth."
Though Studenberg and Targon have had plenty of experience as wine drinkers – and thirsty Instagram posters – their red wine blend with Winc (a company that has also partnered with designer Jonathan Simkhai and Yes Way Rose on wines) is their first foray into the business of wine.
Since leaving their posts at Celine and Lanvin to launch their own brand three and a half years ago, the two have had a fast rise on the fashion front (it also helps that they have celebrity fans like Lady Gaga and Teyana Taylor, who turned up at their New York Fashion Week Show on Friday). In addition, they've done baby and home collections in an effort to expand Baja East as a lifestyle brand, and are regular fixtures on the party circuit. Wine seemed like a natural next step.
"We have always said Baja East is a lifestyle—this is another extension of that," Studenberg said. "I personally crave wine. The other day I was literally craving it. All I wanted to do was order red wine, eat carbonara in my bed and watch 'Veep.'"
The fun-loving designers were integral in the naming, label design, and selecting their wine's overall flavors based on what they felt was on-brand for Baja East. The bottle design, for instance, is based on one of their prints.
"Since our inception as a brand, we've always play with either animal prints or exotics and mixing it with a street animal. We have always played with this idea of luxeness around exotics," Targon said. "This is almost like a psychedelic trip in a way, but with a little tropical grit."
They left the actual winemaking to the pros. "We just thought it would be a cool opportunity, especially when we heard about the Lodi region, which is high quality, kind of like what we do with our clothes," Targon continued, referring to the region in California's Central Valley with a long history of grape growing that is perhaps best known for its generally affordable, old vine Zinfandel wines. "That region in a way is not only up-and-coming and very diverse, but very high quality for small batches small lots. I think that's what you call it…"
Thirsty, a blend of 50 percent Cabernet Sauvignon and 50 percent Petit Verdot grapes that is both gluten-free and vegan, launched as a limited edition this month, just in time for the pair's spring collection, which walked down the runway in a steamy parking lot in the Financial District on Friday night.
So, what does this Baja East wine actually taste like? "It's smooth with a long finish, basically. It has cherry, coco…" Targon was saying, sounding like quite the oenophile. Studenberg finished his thought: "…Blueberry notes. Does it have blueberry notes? That's what I remember…"
Watch More Video from New York Fashion Week:
Getting Ready for Tom Ford's New York Show with Cindy Crawford