April Release: Bruce Weber
60-Page Bruce Weber photo portfolio devoted to New Orleans, Shirley Maclaine channels CoCo Chanel, and Valentino shares retirement plans
---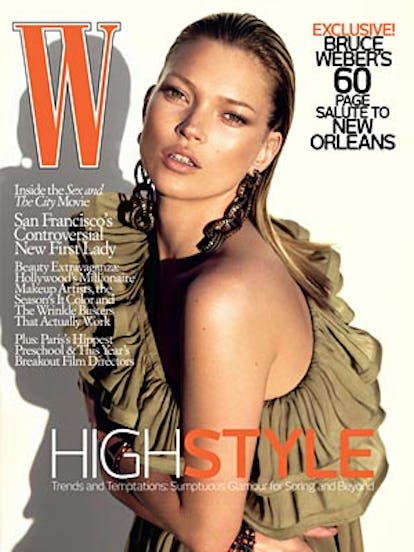 (March 14, 2007, New York, NY) In the April issue of W magazine, legendary photographer Bruce Weber captures the unique beauty of New Orleans nearly three years after Hurricane Katrina. In an ode to the Crescent City, model Karen Elson shows off spring fashions against the backdrop of the perseverant community and its spirited people. W's Creative Director Dennis Freedman says of the photo essay, "We wanted to show how unique the city is through its people. Here is a city of great characters, with big personalities. That's something that seems lost in America right now, when everything feels so homogenized."
The subjects of the photo essay, "Come on Down to Nawlins," include everyone from Archie Manning, football hero and father of Eli and Peyton, to Dr. John, the gravelly voiced master of New Orleans funk, to the Big Easy Roller Girls, four dozen women dressed up in fishnet stockings and glitter lipstick, who compete in roller derbys – often for charity. In addition Weber took the last photographs of the Pink Project before it was dismantled. These are the pink modules that were assembled by the Make it Right Foundation, which was founded by Brad Pitt, to help rebuild the city's Lower Ninth Ward, an area all but demolished by the levee break after the storm.
Other highlights from the April issue of W magazine are below. Articles and a slideshow of the New Orleans photo essay can be viewed at www.Wmagazine.com.
SHIRLEY MACLAINE CHANNELS COCO CHANEL
On accepting the role of Coco Chanel partly because of the long-ago advice from a trustworthy friend – none other than Audrey Hepburn:"When we worked together, she said to me, 'You should think about doing Coco Chanel when you're older. That was in my 20s. I said, 'You should do Coco Chanel.' She said, 'No. You.' I've thought about it all that time, and then this came up. I couldn't believe it."
On whether she was influenced by Katharine Hepburn's performance in the role of Chanel in a Broadway musical in 1969 which MacLaine saw:"No, not at all. Love Kate Hepburn, but it wasn't that great a show."
On whether a past-life connection to Coco herself has come into play considering MacLaine's well-publicized beliefs about the supernatural and reincarnation: "Oh, yeah. She's talking to me all the time. She's saying, 'Don't stoop over like I used to. Stand up straight.'"
LEGENDARY ITALIAN FASHION DESIGNER VALENTINO
On how his retirement plans go far beyond leisure pursuits and include a strong desire to design costumes for ballet and opera, about which he is passionate…"I would love to do La Traviata, I have to tell you."
Please credit the April issue of W for the above. For additional information or to schedule an interview with a W editor, please contact Engelman & Co. at 212.645.9222. Thank you.