Aretha Franklin Is Alive, But She Thanks You For Your Concern Anyways
The Queen of Soul is "doing well" at 75, despite her death becoming a trending topic on Twitter Tuesday.
---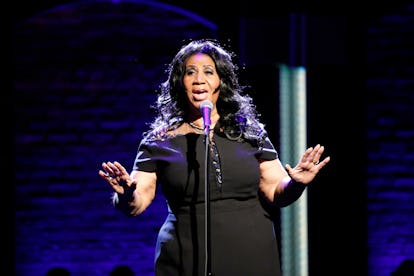 Jon Pack/NBC/Getty Images
Early Tuesday morning, an Aretha Franklin fan account, @ArethaFranklinn (note the two Ns, disregard the "official Twitter" bio description), tweeted about Franklin's apparent death. "It Is With Sad News That We Announce The Passing Of The Queen Of Soul Aretha Franklin 1942-2017," the tweet read. As the hashtag #RIPArethaFranklin began to trend on Twitter, Franklin herself, not from beyond the grave but from this mortal coil, felt impelled to weigh in—as you might, were rumors of your death trending on the internet.
"I'm doing well, generally," Franklin told Us Weekly. Some recent tests had "come back good," she said, and her medication has caused her to lose "a lot of" weight. "Thanxxxx for your concern." If you're debunking your own death hoax, you might as well use the full force of the X key to do so. (If Franklin actually died, though, it is not inconceivable she would fax the press release from the afterlife.)
Earlier in the day, Access Hollywood host and Franklin rep Shaun Robinson also offered an update on Twitter, urging followers "please don't believe this news," as she had just spoken with a family friend of Franklin who said the singer was alive and well. "Have a good day," Robinson added.
This is not even the first death that Franklin, now 75, has survived. On December 28, 2010, rumors of her death hit the internet after she underwent surgery. She was perfectly fine, recovering from the "highly successful" procedure (she did not disclose what it was for), and would live seven more full years before her next supposed death. The following year, though, she was terminal again, addressing rumors that had emerged during her previous death hoax that she had pancreatic cancer. "I was sitting there reading the newspaper," she told Access Hollywood in 2011, "and it was saying somebody in my family said that." Reader, they did not.
Franklin does have an official Twitter account—predictably, @ArethaFranklin—but that account has not been active since 2015, having joined in January 2012. @ArethaFranklinn, by contrast, just joined Twitter this month. @ArethaFranklinn sent out its second tweet ever—the first being the news of Franklin's death—last night. "Update: NOT DEAD," it wrote. Not only is Franklin not dead, she is doing well. She is, however, retiring, as announced earlier this year. Case closed.
R.I.P. Aretha Franklin, Who Had Style to Match Her Soul
The singer posed for a portrait in a classic '60s formfitting cream pencil dress that featured a side knee-high split. He look was completed with a pair of matching cream mary jane pumps.

Michael Ochs Archives
The soul singer looked divine as she donned an embellished bell-sleeve caftan as she posed for a portrait.

Michael Ochs Archives
American soul singer Aretha Franklin stands backstage wearing a gold-embroidered gown and holding a Grammy Award, circa 1970.

Photo by Getty Images.
Never afraid to show off her voluptuous curves, Franklin was front and center at her concert in 1972, dressed in a navy blue and gold dress that accentuated her bust with a low neckline and her legs with a thigh-high split.

Photo by Getty Images.
Aretha Franklin performing a song on a 1975 Bob Hope television special.

Photo by Getty Images.
At the 10th Annual Music Awards in 1983, the singer shows off her award and curvy figure as she poses in a strapless sequined gown on the red carpet.

Photo by Getty Images.
Aretha Franklin, in powder blue, in a concert circa 1985.

Photo by Getty Images.
Franklin performing at the Chicago Theater.

Photo by Getty Images.
Franklin, in 1990, in a regal gown by the late designer Arnold Scaasi, looking every inch the Queen of Soul.

Photo by Getty Images.
Franklin wore this leopard-and-zebra print jacket, matching cuff, and cream minidress to the Arista Records Pre-Grammy Party. She accessorized her look with gorgeous gold chandelier earrings.

Photo by Getty Images.
Franklin sings "Some Day We'll All Be Free"at the inauguration for President Bill Clinton in January 1993, on the steps of Lincoln Memorial.

Photo by Getty Images.
The Queen of Soul arrived to the 39th Annual Grammy Awards looking radiant and glamorous in a cream dress and matching fur coat.

Photo by Getty Images.
Franklin performed at Radio City Music Hall for a VH1 special in a fuchsia and black patterned gown paired with a satin fuchsia and black shawl and black strappy sandals.

Photo by Getty Images.
Franklin stole the show with her performance, and hat, at the inauguration of President Barack Obama in 2009.

Photo by Getty Images.
Franklin stunned in a off-the-shoulder black satin gown during her performance at the Candie's Foundation 2011 event. She kept her accessories classic: a pearl necklace and earrings.

Photo by Getty Images.
The legendary songstress looked angelic in a white one-shoulder gown for her performance during Surprise Oprah! A Farewell Spectacular.

Photo by Getty Images.
Franklin looked radiant and effortlessly chic in a shimmering soft gold caftan while attending the 102nd White House Correspondents' Association Dinner.

Photo by Getty Images.
Franklin performing during the 2017 Tribeca Film Festival opening gala premiere of Clive Davis: The Soundtrack of our Lives, at Radio City Music Hall on April 19, 2017, in New York. Photo courtesy of Getty Images.

Taylor Hill
Haim's four rules for getting ready for a party: