Ariana Grande's "34+35" Video: A Fembot's Revenge
Dr. Grande's fembot creation fires back in her music video for "34+35."
---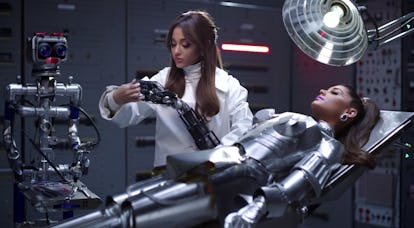 Courtesy of YouTube.
When Ariana Grande released her highly anticipated sixth studio album, Positions, it was dubbed one of her sexiest projects to date. Specifically, people pointed to the album's second track called "34+35" (you do the math) as a prime example.
The musician teased on social media that she would release "34+35" as a single with an accompanying music video, but considering how outright horny the song's lyrics are, many of her fans questioned just what exactly a visual accompaniment to the track might entail.
On the title track, of the album Grande sang about the challenges of contorting oneself as a women attempting to be successful in both her relationship and her career. In the video for "34+35" she just steps into a lab and engineers a fembot version of herself (presumably to take on the tasks that she might be too busy to accomplish if she's serving as the President of the United States).
It's entirely possible that Grande took inspiration from Austin Powers: International Man of Mystery's fembots for the babydoll dresses and matching gloves costumes worn by Dr. Grande and her dancers in the music video. It's also entirely possible that, given the B-movie font used for the video's title, she was also inspired by Mary Shelley's Frankenstein and the classic film series it spawned. She might have taken a page from Donna Haraway's "Cyborg Manifesto" or felt inspired by Fritz Lang's Metropolis. And maybe the purpose of the music video is to send the message that, if women want to try to have it all, they'd have to just literally clone themselves to get it all done.
Or, maybe, as she explains in the song's final lines, it's not that serious. It could be that, like the song itself, the music video for "34+35" is simply just another expression of wanting to have a good time.
Related: Ariana Grande's "Positions" Video Imagines the Election Results We Deserve