Ariana Grande Reveals How Manchester Changed Her New Album Sweetener
The pop artist shared how Manchester made her more vulnerable.
---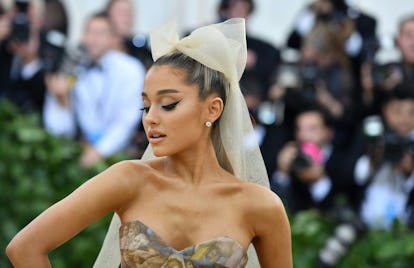 ANGELA WEISS/AFP/Getty Images
Ever since last May's tragic Manchester Arena bombing mid-concert, Ariana Grande has been understandably quiet and private. That is starting to change with time, though, as the pop singer just spoke out about the aftermath of the terrorist attack and how it's changed her as a person and as a musician.
"I've never been this vulnerable to myself," Grande told The Fader in a new cover story. "I feel like I graduated almost."
It took Grande so long to reach this point, she reveals, because she's still trying to find the words to process her emotions with. "I guess I thought with time, and therapy, and writing, and pouring my heart out, and talking to my friends and family that it would be easier to talk about, but it's still so hard to find the words," she said. "When you're so close to something so tragic and terrifying and opposite of what music and concerts are supposed to be, it kind of leaves you without any ground beneath your feet."
Music—along with therapy—has helped her get back onto her feet, though. With her next album Sweetener, she'll be letting her fans in to glimpse her healing process. "There are parts of my life that they would love to know about," she said of her fans, "and hard times that I have been dealing with for the past year and a half that they deserve to know about because they love me endlessly and care. I don't want to hide any pain from them, because I can relate to their pain. Why not be in it together?"
The result? "I've always just been like a shiny, singing, 5-6-7-8, sexy-dance…sexy thing," she explained. "But now it's like, 'OK…issa bop—but issa message. Issa bop but also has chunks of my soul in it. Here you go. Also, I cried 10 hundred times in the session writing it for you. Here is my bleeding heart, and here is a trap beat behind it.' There's definitely some crying-on-the-dance-floor stuff on this one."
That kind of cathartic pop music couldn't be any more timely. "We're in such a trying time and people have been responding with acceptance, love, inclusion, and passion," as Grande explained. "This generation, they're standing up and they're not going to take no for an answer."