Ariana Grande Suspends Tour in the Wake of Manchester Attack
"Broken," the pop singer tweeted late Monday night after a terrorist attack on a Manchester arena, where she had just played a show, that killed at least 22 and injured dozens more.
---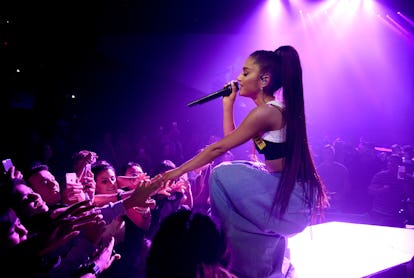 Kevin Mazur/Getty Images
The death toll in a terrorist attack at a Manchester venue where pop star Ariana Grande was performing has risen to 22, according to law enforcement officials.
"Broken," Grande tweeted late Monday night. "From the bottom of my heart, I am so so sorry. I don't have words." Another TMZ report indicated Grande was "inconsolable," while her manager, Scooter Braun, also posted his condolences: "Our hearts are broken," he wrote. "Words cannot express our sorrow for the victims and families harmed in this senseless attack."
The singer has reportedly suspended the rest of the European dates of her "Dangerous Woman" world tour, supporting her 2016 album of the same name, in the aftermath of a bombing at her show at Manchester Arena, according to TMZ. She was previously scheduled to play the next stop of the tour in London on Thursday, but has also canceled that show.
The bombing, which British law enforcement and Prime Minister Theresa May have called a terrorist attack, shook the stadium around 10:30 p.m., just after the concert had drawn to a close; according to May's televised statement, the bomb was placed near an exit and detonated at the end of the show to maximize casualties—the Manchester Arena's capacity is 21,000.
So far, 22 have been confirmed dead and 59 hospitalized with injuries, making it the deadliest attack on British soil since 20-05. The Greater Manchester Police posted to Twitter that a suspect, age 23, had been arrested near the city center in connection with the attack. The Islamic State claimed responsibility early Tuesday, though, as the Washington Post reported, the group "often quickly proclaims links to attacks, but some previous claims have not been proven."
The bombing comes just two months after a terror attack outside London's Westminster Palace killed six, including the attacker, and injured more than 50. As many have noted, it also echoes the series of attacks in Paris in November 2015, during which a shooter targeted the city's historic Le Bataclan club. Ninety were killed during an Eagles of Death Metal concert; the band proceeded to finish out their tour in the wake of the event.
International pop stars, including Miley Cyrus and Justin Bieber, expressed condolences on social media, as did high-profile Manchester musicians, including Oasis' Liam Gallagher: "In total shock and absolutely devastated about what's gone down in Manchester. Sending love and light to all the families involved."
If you're looking to help, the British Red Cross and Manchester City Council have set up a fundraising drive to benefit the victims and families of those affected.