Ariana Grande and Jennifer Lopez Have the Exact Same Style Now
High ponytail? Check. Thigh high boots in lieu of pants? Check.
---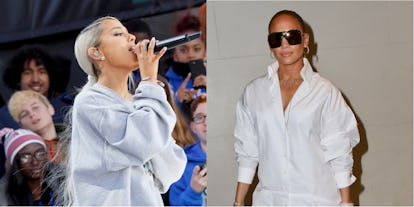 Demis Maryannakis/Star Max/GC Images
Jennifer Lopez has been seemingly aging in reverse for decades, but the 49-year-old has now, more than ever, come to resemble a 25-year-old: specifically, Ariana Grande. When J. Lo stepped out in New York City today, she could have easily been mistaken for the Sweetener singer. That's largely due to the outfit she wore: an oversized top with a high ponytail, hoop earrings, and Versace thigh-high boots in lieu of pants, which have been trending for quite some time now.
The look Lopez was spotted in has basically become Grande's uniform as of late, as she wanders around the same city with her fiancé, Pete Davidson. Grande even wore a pair of blue, thigh-high boots recently, with an oversized sweatshirt, when performing at March for Our Lives.
While at least one tabloid has remarked that Lopez is borrowing Grande's look, that assessment hardly seems fair. For one, Lopez has been wearing her hair in a high ponytail — whether all up or half-up, half-down hair — since Grande was in elementary school. Just look to her 2001 "Love Don't Cost a Thing" video as proof. It's also possible that the two simply share the same aesthetic.
Either way, Lopez looks like she's barely changed since those "Jenny From the Block" days, a phenomenon which she, herself, has commented on. "Listen, at some point, I'm going to age," Lopez she said to Emmy Magazine in May. "They'll say, 'She looks old!' But, right now, I'm holding it together."
One of the reasons she's able to do so is because she treats herself with kindness, leaving affirmations all around her house, from on her pillows to decorative objects. "Affirmations are so important," she told Harper's Bazaar in its April 2018 issue, in between discussing her love life with Alex Rodriguez. "I am youthful and timeless. I tell myself that every day, a few times a day. It sounds like clichéd bullshit, but it's not: Age is all in your mind. Look at Jane Fonda."
One thing that's not just in her mind? Her healthy habits, which include the basics, as A-Rod revealed in the same story. "She really leans into the big fundamentals, like getting her rest, eight to 10 hours." Grande is right with her, there.