Even Jennifer Lopez Is Confused by How Little She's Aging
"At some point, I'm going to age… but right now I'm holding it together."
---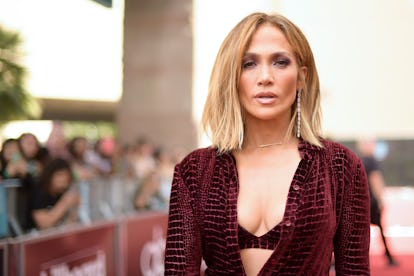 Matt Winkelmeyer/Getty Images
The stars, they're truly just like us! They have car insurance. They enjoy mile-long CVS receipts. They take air into their lungs and expel it for survival purposes. Well, sorry, we've just been informed Jennifer Lopez is not quite a civilian, as she's humbly admitted that even she is surprised by her lack of visible age. At 48 years old, J. Lo is feeling and looking 22, and it's really hard to disagree with her.
"Listen, at some point, I'm going to age," Lopez pontificated to Emmy magazine in a new interview. "They'll say, 'She looks old!' But, right now, I'm holding it together." This fountain of youth she's tapping into is further amplified by how she spends her time with her boyfriend, Alex Rodriguez. "The other day, Alex was across the lawn, and I brought him something, and then I ran away. And he said, 'You run like you're 25 years old,'" she recalled. "I haven't stopped that pace, so I'm still at that pace, I guess. When things start aching more, it'll be different."
It's easy to be a little skeptical. You might be thinking, Think of the personal training! or, She must not eat sugar like Tom Brady! Well, Jennifer Lopez says that's not the case at all. "I just take it day by day, because it's so much stuff, and I try not to worry about too much," she continued. "When I leave here, I'll go home, have a nice dinner, then I'll go to my bedroom, have a nice bath. I'll have a chocolate cookie with milk, I'll watch TV. And then I'm like, okay, tomorrow is full out."
Lopez has previously also revealed a key secret to her aging (or anti-aging) philosophy. "Affirmations are so important," Lopez told Harper's Bazaar in its April 2018 issue. "I am youthful and timeless. I tell myself that every day, a few times a day. It sounds like clichéd bullshit, but it's not: Age is all in your mind. Look at Jane Fonda."
Can't argue with that.
Related: Alex Rodriguez Isn't Reading Too Much Into Jennifer Lopez's Song About Engagement Rings