Jennifer Lopez and Alex Rodriguez Purchased a $15 Million Apartment With Only Four Bedrooms
What's more permanent than marriage? Real estate.
---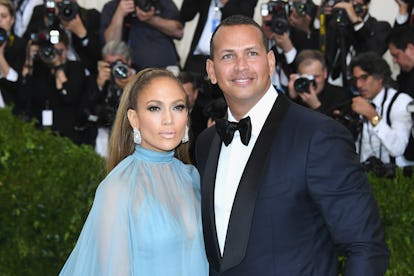 Dia Dipasupil/Getty Images For Entertainment Weekly
Jennifer Lopez and Alex Rodriguez might not be getting married anytime soon, as they recently revealed, but they've made a commitment that's arguably more permanent than marriage: real estate. The couple has just purchased an apartment together in New York City.
Together, J. Lo and A-Rod dropped $15 million on a love nest at the prestigious 432 Park Avenue, The Wall Street Journal reports. What comes with a $15 million apartment? A lot less than you may think. The unit features only four bedrooms and four and a half bathrooms, albeit spread across 4,000 square feet. It does, however, boast views of Central Park and the Bronx because J. Lo's still just Jenny from the Block.
Lopez and Rodriguez will be in good company at their new building, the western hemisphere's tallest residential tower, as the website touts. Their neighbors include José Cuervo heir Juan Beckmann Vidal and Saudi retail developer Fawaz Al Hokair, who snagged the largest apartment in the building for a cool $95 million, according to Curbed, among others.
Even though marriage doesn't seem to be in the cards for the couple, they recently opened up about the strength of their relationship. "I do believe in marriage," Lopez said earlier this month. "And I would love to grow old with somebody in a committed relationship. But I'm not forcing anything right now."
"We communicate well," she said. "We understand each other's lives in a way that most other people couldn't. We both entered the public eye in our early 20s and overachieved right from the start. And that affects every dynamic in your life, from your family to your work to your relationships. We have a similar makeup."
Clearly, they have similar taste in real estate. While the building's decor looks to be minimal, it will be no time before the pair personalizes the new apartment. As for what exactly that looks like, Lopez's recent Harper's Bazaar cover story offers a glimpse: Their new apartment will likely be laden with affirmation decor, from pillows to art and decorative objects. "Affirmations are so important," as Lopez says. "I am youthful and timeless. I tell myself that every day, a few times a day. It sounds like clichéd bullshit, but it's not: Age is all in your mind." One thing that isn't, though, is the ability to live like Lopez and A-Rod. That, does in fact, cost a thing.