The Perks Of Eating A Plant Based Diet Like Gisele Bündchen and Tom Brady
Chef Allen Campbell breaks down the health benefits of a plant based diet.
---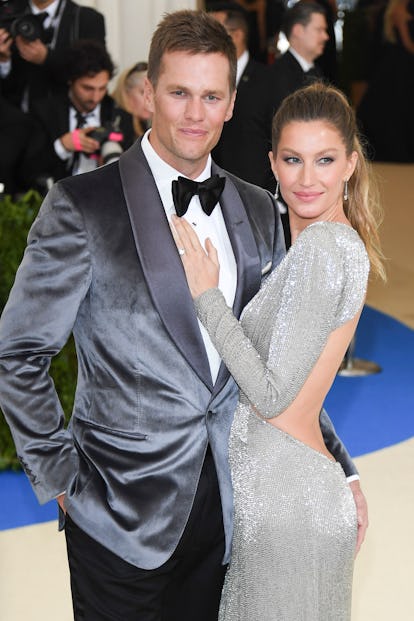 Getty.
The power couple of fashion and football, supermodel Giesle Bündchen and Patriots superstar Tom Brady, maintain a health and fitness lifestyle with a much talked about diet regimen. Thanks to Bündchen and Brady's former personal chef, Allen Campbell, changing our mindset behind the reason why we eat food is key and can make the transition into eating a plant based diet that much easier. Here, the Boston based chef breaks down the guidelines of eating plant based, the health benefits of eating whole foods and why we should take the time to understand the food we eat.
How did you get your start in the culinary world and develop your plant-based cooking style?
I started cooking very young. I started working in a grocery store when I was 12, then I went to a trade school for high school, so I started taking culinary arts when I was 14 and I also got a job in fast casual dining at that same age. I went to college for culinary arts and I always worked in high end restaurants all around Boston. I had the same tradition and goals as many other chefs at that age and time, which was to open my own restaurant, high end, fancy food, get the James Beard award, all of that drive is what I had back then. Then I moved to Miami in 2009, and while working at the hotel I was at, I started to look at my own lifestyle. I quit smoking cigarettes, I cleaned up my diet, I started going to the gym, I started gravitating towards people that were living a healthy lifestyle. I did this cleanse, and after I did the 2-3 days cleanse, I had this epiphany and never looked back. I could no longer just put whatever I wanted in my body and I dove into research, documentaries, I started to blog and talk about sugar and the future generation, obesity and how our eating habits affect our work force.
What is a plant based diet?
When I say plant based, I don't mean vegan. I know a lot vegan companies and advocates use the word plant based, but it's not technically the right word because if it was only the base of the diet, it would only be part of it. For me, plant based does mean plant based. Plants need to be the focus, that's where all the nutrition is. I believe that if we lean towards a more plant based diet, not only would it improve human health, it would improve our environment and habitat, and that's no coincidence for me. I look at whole plant based foods, that's the foundation of the diet, mostly green vegetables, green vegetables are the highlight of that diet. And then you look at whole grains, fruit, and other vegetables, all the herbs and aromatics and all those things that compliment for flavor. And then depending on the season, you bring in animal protein that are hopefully wild or organic and locally raised, but very small portions. It really falls into the category of flexitarian if you wanted to give it one of those names, I don't really use the word flexitarian, but it technically is a flexitarian diet that excludes diary and gluten and no white sugar.
What are the main health benefits when a eating plant based diet?
For me, getting rid of dairy was really big and other people have seen that as soon as they drop dairy they can breathe better, their skin looks better, and even with gluten as well. Sometimes, it's just eliminating some of those, I call them toxic ingredients that we put into our body to allow the other ingredients to come through and be the star of the show, instead of these heavy, fatty, salty, sugary foods taken over our palette. When I got rid of white sugar and white flour, I had cravings, but as soon as I retrained my brain, my body stopped asking for it. My nervous system and my reward system was no longer looking for that quick fix that I didn't even know I was doing to myself. It takes time to break old habits, but stick through it. My biggest recommendation is to gravitate towards like minded people.
What foods do you avoid and why?
I stay away from refined grains, so anything that is not a whole food. Even oils, I'm limited with oil because they are not found in nature. I believe that if it's not found in nature, we shouldn't really be messing with it. Because look what happens, we took these sugar canes and stripped down that fiber and look what sugar has done. Sugar has wreaked havoc on human health. So in my opinion, we cannot mess with nature in that way. We cannot be stripping down or extracting this and that, just eat the whole foods the way they were meant to be eaten. It's not easy, because you definitely need a wide variety of whole plant based foods to get all you need if you are going to refrain from animal protein. That's why being vegan and eating healthy is not easy, you have to really know what you are doing. With the addition of animal protein, staying away from conventional, factory farm protein is the absolute worst thing we can put into our body.
Is this a sustainable diet for everyone?
When we talk about budgets, because I'm going to go plant based, it's going to be less expensive. So when people say I can't afford it, they automatically are associating a healthy diet with eating organic and it's two dollars more a pound than conventional. But when you look at it all in all and really investing in your health, the cost you might save later on in life from whatever might come from your eating habits, we look at the big picture. It's just like the way we invest in our house, clothes or whatever it is. You have to invest into your body. And what I just launched up here in Boston is Avail, which is an affordable prepared meal service to accommodate those demographic of people as part of my mission to make healthy food accessible to the masses.
How do you introduce eating plant based diet to your clients and help them stay consistent with diet?
Everyone is different, so people will say I want to eat quinoa one day and then not the next day. That's rolling with punches of being a private chef and being flexible. I got very lucky with Tom and Gisele when I was with them because they were so disciplined, same time everyday, very consistent with the times they ate and what they wanted for food. A lot of it is about planning ahead, so as soon as a client reaches out, it's a commitment. We plan ahead and that's where my role comes in, is keeping someone in check and holding them accountable. But at the end of the day, it's still up to them to stick to the diet and to not stray away from the healthy eating.
What are your best culinary heath tips?
Don't feel so bad about indulging and allowing it to take you off track. If you are obsessing about having that piece of chocolate cake all week long, to the point that you are not even enjoying the food that you are eating, just eat the cake. I advise to look for a healthier version of that like having a bite of a piece of chocolate and that might satisfy that craving. And plan ahead. Planning ahead is the biggest part of staying consistent. Whether it's a job or whatever it is, we all prepare for many of these areas of our life, but yet this part we rely on everybody else to do it for us. We have restaurants and groceries stores that put all this food out in front of us so that we don't have to go hunt and gather, but we should almost go back to that mindset a little bit as far as putting that responsibility on ourselves to source our food, plan ahead and to know what we are going to eat today and two weeks from now. It's also gratifying, it's not like you take care of your eating habits and you get miserable, you actually get happier, and you feel better and your health is better and your skin is better. It's not rocket science to me to jump in with both feet and take care of yourself on that deeper level.
What is your philosophy behind your cooking and food?
My own personal philosophy and mission is to have an impact on people's lives through food. I feel like chefs have the ability to reshape our culture, chefs are leaders of eating habits, we set the tone for what the norm is. Chefs become those people in the spotlight, and for me that's huge. You now have a platform to have an impact on people's lives, and you might not know it, but you do. And for me, that means really utilizing that platform to have a positive impact. Look as food as fuel for your body, we eat food because we need to nourish our bodies. Think about food in a different light, let's look past flavor and look at the reason why we eat.
How Kendall Jenner, Adriana Lima and More Models Are Staying Fit in 2018