Victoria's Secret Model Sara Sampaio Confirms It's Okay to Wear a Strong Eye and Lip at the Same Time
It helps if you're a Victoria's Secret model, of course.
---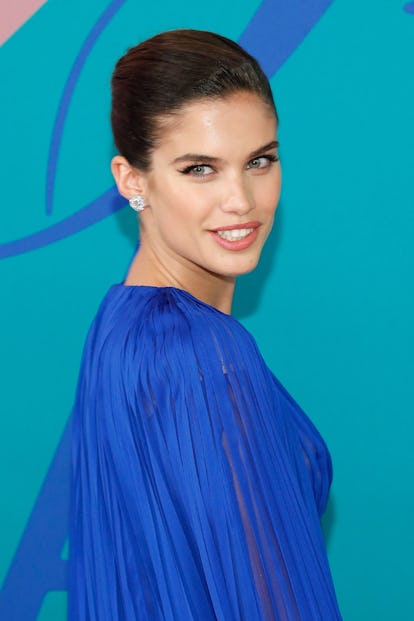 Taylor Hill
With her sultry green eyes and voluminous brunette waves, Victoria's Secret Angel Sara Sampaio has always been a runway standout. From her favorite highlighters to lipstick, the Portuguese beauty is always looking to keep her look effortless and natural. Here, Sampaio reveals everything from skincare essentials to her everyday five-minute look.
Your look in three words:
Elegant, simple, sexy.
Good skin starts with:
Shiseido Ibuki Refining Moisturizer.
Best advice from your dermatologist:
Drink lots of water.
Best advice from your facialist:
Don't pick at acne or blemishes, even though it's tempting. And always moisturize.
SPF of choice:
Moroccanoil Sun Lotion.
Makeup miracles:
Benefit Cosmetics Watt's Up! Cream-to-Powder Highlighter.
Most underrated product:
Sephora Collection Waterproof Eye Makeup Remover.
Never leave the house without:
Curling eyelashes, putting highlighters, fill in my eyebrows and cover some imperfections with concealer and mascara.
A good hair day starts with:
Moroccanoil Treatment after the shower.
My hair colorist always says:
I've never colored my hair! Just don't ruin your hair with color!
Nails must be:
Natural. Hate doing my nails!
Beauty from the inside out:
Drink lots of water, vegetables, and lean protein.
Exercise obsession:
SLT NYC.
Drink of choice:
I love orange juice, and strawberry-banana smoothies.
Product that you picked up from the pros:
MAC Lipstick in Ruby Woo.
A woman should smell like:
Chance by Chanel.
Appointment you'd love to nab:
My favorite stylist is Danielle Priano—she is the only person I let cut my hair!
Spa-cation at:
Amanyara in Turks and Caicos, it's just so relaxing there! Anything by the beach just makes me happy.
TSA-friendly essentials:
Lip balm, facial mist, and moisturizer.
In-tub must-read:
A Dog's Purpose by W. Bruce Cameron.
Best advice from mom:
Always stay true to yourself and work hard to achieve your dreams.
Best-kept beauty secret:
Sleep, smile, and be happy (and Victoria's Secret Velvet Matte Cream Lip Stain in Adored).
Beauty myth you'd like to debunk:
That you can't wear an eye and lip at the same time. You should always do whatever makes you happy—and there's a lot of cool make-up looks that include both!
Definite doppelgänger:
My soul sister Shlomit Malka.
Victoria's Secret Choreographer Jermaine Browne Demonstrates the Allure of Pole Dancing