Victoria's Secret Angel Lais Ribeiro Never Sleeps With Her Makeup On and Avoids Fried Foods (Most Of the Time)
From her skincare essentials to favorite makeup products, the model breaks down her health and wellness routine.
---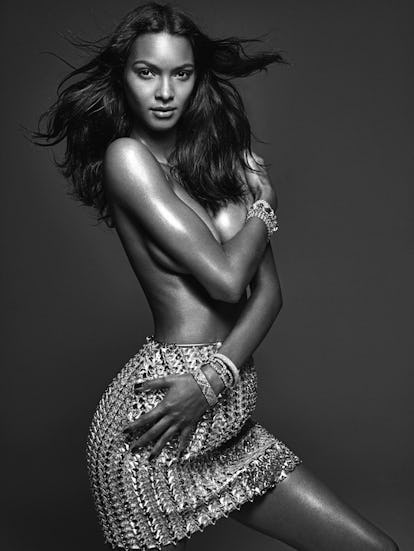 Photographer: Mario Sorrenti, Stylist: Edward Enninful
While some of Victoria's Secret's most famous alumni, including Gisele Bündchen, Alessandra Ambrosio, and Adriana Lima hail from Brazil, it is time to welcome a new Brazillian bombshell amongst their ranks. Gaining her Angel wings back in 2015, model Lais Ribeiro is the latest to join the pack, and it's easy to see why, thanks to her legs for days, perfect skin, and perfectly tousled waves. Want to get a piece of that South American beauty routine for yourself? From her skincare essentials to favorite makeup products, here, Ribeiro breaks down her health and wellness routine.
Your look in three words:
Just be yourself.
Medicine cabinet snapshot:
Vitamin C, coconut water, Arianna Mask, and Embryolisse Lait‑Crème Concentré.
Good skin starts with:
Dior Hydra Life Deep Hydration Sorbet Water Essence.
Best advice from your dermatologist:
Sleep well and drink water.
Best advice from your facialist:
Never sleep with make-up!
SPF of choice:
Honest Beauty Dependably Clear Oil Free Moisturizer.
Makeup miracles:
Laura Mercier Illuminating Tinted Moisturizer.
Most underrated product:
Water hands down, it really makes the difference for skin, hair, mood…everything!
Never leave the house without:
Avène Eau Thermale and a ponytail.
A good hair day starts with:
Sea salt products or dry shampoo.
My hair colorist always says:
Keep and maintain your natural color.
Nails must be:
Painted and styled for the occasion.
Beauty from the inside out:
Water and no fried foods (most of the time).
Exercise obsession:
The Dogpound with my personal trainer Kirk Myers.
Drink of choice:
Fresh juice.
Product that you picked up from the pros:
NARS Cream Eyeshadow.
Appointment you'd love to nab:
André Veloso, my Brazilian makeup artist, in New York. He's amazing!
Spa-cation at:
Beaches from Northeast Brazil, relaxing while nature shows itself.
Best advice from mom:
Always be thankful.
Best-kept beauty secret:
Coconut oil.
Beauty myth you'd like to debunk:
That beauty is only on the outside.
Related: Karlie Kloss Is Obsessed with French Pharmacies—and Messy French Girl Hair
Model Gigi Hadid Reveals the Secret to Her Signature Runway Walk
Bella Hadid Is the Reigning Queen Of Model Off-Duty Style
Bella Hadid is seen walking in Soho on June 30, 2016 in New York City.

Getty
Bella Hadid leaves the 'L'Avenue' restaurant on October 28, 2016 in Paris, France.

Getty
Bella Hadid is seen in Soho on November 14, 2016 in New York City.

Getty
Bella Hadid is seen in Midtown on February 14, 2017 in New York City.

Getty
Bella Hadid arrives at a party on February 28, 2017 in Paris, France.

Getty
Bella Hadid leaves her hotel on March 1, 2017 in Paris, France.

Getty
Bella Hadid is seen on January 21, 2017 in Paris, France.

Getty
Bella Hadid is seen in the East Village on November 18, 2016 in New York City.

Getty
Bella Hadid leaves the 'RIMOWA' boutique in Rue du Faubourg Saint Honore on March 6, 2017 in Paris, France.

Getty
Bella Hadid is seen at Chelsea Piers on March 30, 2017 in New York City.

Getty
Bella Hadid is seen leaving her apartment in the East Village on April 5, 2017 in New York City.

Getty
Bella Hadid seen on the streets of Manhattan on April 5, 2017 in New York City.

Getty
Bella Hadid on a night out at Sexy Fish restaurant in Mayfair on April 19, 2017 in London, England.

Getty
Bella Hadid is seen in the East Village on April 25, 2017 in New York City.

Getty
Bella Hadid is seen the East Village on April 29, 2017 in New York City.

Getty
Bella Hadid is spotted during the 70th annual Cannes Film Festival on May 17, 2017 in Cannes, France.

Getty
Bella Hadid is seen in Chelsea on May 4, 2017 in New York City.

Getty
Bella Hadid is spotted at the Majestic Hotel during the 70th annual Cannes Film Festival at on May 20, 2017 in Cannes, France.

Getty
Bella Hadid is seen in NoHo on May 10, 2017 in New York City.

Getty
Bella Hadid enters a Noho apartment on June 06, 2017 in New York City.

Getty
Bella Hadid is seen at 'L'Avenue' restaurant on June 9, 2017 in Paris, France.

Getty
Bella Hadid is spotted at the 'Majestic' hotel during the 70th annual Cannes Film Festival at on May 27, 2017 in Cannes, France.

Getty
Bella Hadid is spotted at Airport Roissy Charles de Gaulle airport on June 11, 2017 in Paris, France.

Getty
Bella Hadid is seen in the East Village on June 12, 2017 in New York City.

Getty
Bella Hadid seen on the streets of Manhattan on June 13, 2017 in New York City.

Getty
Bella Hadid is seen at LAX on June 21, 2017 in Los Angeles, California.

Getty
Bella Hadid seen out in Manhattan on July 17, 2017 in New York City.

Getty
Bella Hadid is seen in Paris, France, on June 3, 2017.

Getty
Bella Hadid is seen walking in Soho on July 19, 2017 in New York City.

Getty
Bella Hadid is seen on August 26, 2017 in New York City. (Photo by Ignat/Bauer-Griffin/GC Images)

Ignat/Bauer-Griffin