Karlie Kloss Is Obsessed with French Pharmacies—and Messy French Girl Hair
The supermodel shares her beauty secrets.
---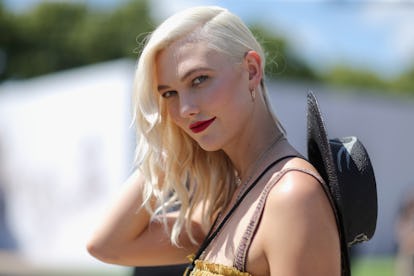 Photo by Edward Berthelot/Getty Images
Whenever a top model, especially the likes of Karlie Kloss, dishes out their best beauty secrets, we're all ears. The supermodel, who turns 25 today, just became one of the recent wave of A-listers to join the platinum blonde movement during Paris Haute Couture Week. Here, Kloss opens up about how she loves to take care of her skin, her favorite gym in NYC, and more.
Your look in three words: Chic, simple, timeless.
Medicine cabinet snapshot: Oh, you would find a very organized medicine cabinet! It's a bit eclectic. There are products from all over the world, I love going to the pharmacy in Paris and stocking up on cleansers, creams and oils. I was recently in Tokyo and got amazing eyelash curlers, eyelash heaters and a beaded massager for your face to help de puff and release toxins from your skin. Also, I was in Australia and a makeup artist gave me jade roller–it's amazing. You put it in the freezer and first thing in the morning it wakes you up and plumps your skin.
A good hair day starts with: My favorite hair day starts with washing it at night, going to bed with it air-dried, slightly damp and then waking up the next morning with really good bed head texture. A bit messed up, not too perfect, but kind of sexy texture; it feels very French. I love a good sea salt spray or dry shampoo, and I love to do a French braid. I do a mean French braid!
Makeup miracles: I really love to take care of my skin. I think for me a big indulgence is skincare. My go-to is a really rich cream or oil—especially for the winter, I love a good argan oil. Even coconut oil on cuticles, on skin, and even on your hair. It's super natural and it has these fatty qualities that really feed your skin. And, I also cook with it!
Nails must be: A ballet slipper color. I'm so basic, I love a clean nail.
Bronze or blush: Cream blush! A good cream blush, something that you could put on your lip or apply with your fingertip. Oftentimes, I'm living out of a suitcase so I'll use a lipstick, a really pretty peach or coral, something with a good color. And if it's really bright, you don't have to use a lot ton, just a bit of lipstick on your fingertips and dabbing and sculpting into your skin.
Karlie Kloss's Best Moments in W
"Drama Queen"; W magazine April 2012.

Photo by Craig McDean. Styled by Lori Goldstein.
Beauty from the inside out: Plenty of water, clean proteins, and fresh organic vegetables .
Exercise obsession: I like to mix it up. I've currently been doing strength training and boxing at DogPound Gym.
Drink of choice: Depends on the mood. I love an almond milk latte or a vegan chocolate protein shake.
Product that you borrow from the boys: Sweaters. There's nothing better than being in a cozy oversized sweatshirt.
Product that you picked up from the pros: A Clarisonic scrub brush, I've learned how important it is to exfoliate your skin.
A woman should smell like: Good Girl by Carolina Herrera, of course!
Appointment you'd love to nab: Nails by Mei, her nail art is out of this world.
Your most searing beauty question: What are the secrets to flawless skin?
Watch an interview with W cover star Karlie Kloss: