Bella Hadid's Trainer Breaks Down the Ultimate Winter Workout Routine
Joe Holder, who trains most of the world's top supermodels, shares his his guide on staying fit in the winter.
---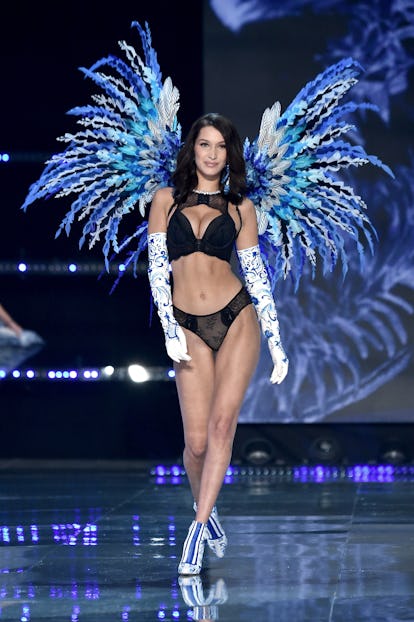 Theo Wargo
It goes without saying that on those dark and chill wintry mornings, opting for the snooze button rather than hitting the gym may come off as a more tempting offer. However, thanks to celebrity fitness and Nike trainer, Joe Holder, who trains with fashion's elite like Bella Hadid, Naomi Campbell and the Victoria's Secret Angels, the winter is best time to get after your fitness goals. From interval training techniques to strength training, Holder proves that anyone can train like a VS Angel. Breaking down his guide to working out and staying motivated in the winter, here, Holder shares his 15 minute workout routine, his best nutritional tips, and more.
Why do you people find it harder to work out in the winter time and what is your best advice on staying motivated?
The body in these colder climates and due to the reduction in sun, it's just a bit harder to stay upbeat as our rhythms change. I like to think of it as a pre-season. You know you're going to be more active when the warmer months arrive but if you're so out of shape and de-conditioned when they arrive, you won't want to. You can not fall into this trap by simply realizing you don't have to be perfect during the winter; just keep a general baseline of activity and movement, and don't beat yourself up if you fall off track. Also, people are generally less social during the winter so this is an easy time to hide and get after your fitness goals, too.
What is a quick 15 minute workout routine that one can do to stay fit during those wintry mornings?
The Nike+ Training app has so many quick 15 minute workouts, some even less, that require no equipment, so that is a go-to of mine when I just want to be active and not put deep thought into my exercise routine. Quick rule of thumb if you want to make your own, though, is hit a leg exercise, upper body exercise, abs, heart rate, and then something that gets you working in a different plane of motion or something you are not completely used to. Here is an easy one: 10 push-ups, 30 second slide plank on each side, 60 second high knees, 30 second side lunge on each side, and 10 reps buddha squat for five rounds. Stick to the basics and evolve, you don't have to do a bunch of crazy exercises to get results.
What are some healthy daily habits that you recommend implementing into your everyday routine?
You don't need special powders and treatments for the most part. Do the 95% right and the rest will fall into place. It's pretty basic but, sleep consistently. Simple. It's recovery and rest, so needed. Eat within a restricted time window. Your stomach has its own circadian rhythms and a lot of interesting research is starting to arise regarding not just the importance of what you eat but when. I advocate a 8-12 hour eating window. Drink water. Everyone hears this but it is easy to forget and not drinking enough water actually causes you to hold onto water interestingly enough and thus unneeded weight. Create "snack breaks" of activity. Exercise and movement and food are inextricably linked. Not saying you have to punish or reward yourself with exercise due to eating, but try to just increase non-exercise activity movement which will lead to overall healthier living. Don't check your phone before bed or immediately upon waking up, it's healthy for your sleep habits and also your mind. And take time in the morning or before bed just to do some light stretching and breathing; it's a wonderful stress reduction strategy.
When it comes to nutrition, what you recommend eating and drinking before and after a workout?
If fat loss is the primary goal, I like individual to work out on a relatively empty stomach—but this does not mean they should not have eaten all day. This then allows them, especially if it is done before breakfast, to eat a meal immediately to optimize recovery and to get food in their system, especially if they won't have a chance to eat for a bit. Meals should be consumed about 2-3 hours before workout for optimal digestion. If food needs to be consumed within a smaller window closer to working out, typically go with a shake or smoothie as this can be quickly assimilated, but can still keep relatively low in sugar so it doesn't cause a spike quickly. After a workout, think about keeping it carbohydrate reduced, but not absent, and focus on a protein source with high quality vegetables. If you had a meal a couple hours before and your workout was not too intense or over two hours, you still have some time to prepare a meal as the breakdown and synthesis of the previous meal is still occurring.
What are some of your favorite exercises you use to train with the Victoria's Secret Angels?
I treat them like athletes, so I like to utilize compound exercises and then focus on micromovement. They need fairly athletic builds, so a paradigm shift in training them like athletes for aesthetic based goals, while somewhat novel, is actually the most strategic and successful. I'm big into conditioning, using battle ropes, Airdyne Bikes, Prowler, and of course their feet. Strength training is very good for injury prevention and making sure they increase their strength so then their overall work capacity can increase in conjunction with their base level of cardiovascular fitness. A lot of this is glute-focused body weight exercises, which typically will have the highest amount of activation in these areas.
What does an ideal week of workouts look like?
Think of the lowest effective dosage that will have the longest residual training effect. To put it simply, what is the minimum I have to do to make sure I get the results I need but that will also have residual effects to make sure the other workouts that I am doing are of high quality? I typically advocate, as a base for a standard individual, two days of high intensity, one day of strength, two to three days of lower to medium intensity, and a day of rest.
What are some common problem areas that your clients express getting help with?
Understanding how to eat. The fitness world is ripe with over complication when it comes to this. If people did the basics right, which compose 95% of any successful strategy, they would be better off; consume less overly-processed foods, eat within a general time restricted window, get enough water, cut back on sugar, and increase non-exercise activity. It is hard to stay motivated day in and day out. I often do not feel like working out some days, but I just have them take a simplistic approach to it. Skewing on the side of better, or doing more good than bad, when it comes to wellness habits will typically have you come out net positive. Don't think everyday has to be perfect but what often happens is people fall into a chasm because they've given up on their health for so long that it takes such a heroic fight to just get back to mediocre and that can be mentally taxing. Do your best to not let yourself get to that point. Myths surrounding workout strategies. Basically a quick summary is weight lifting will not "bulk you up," get used to doing some intense work, increase your recovery time as workouts are just an added stressor, and get your body used to working properly by fixing your movement patterns.
Is interval training a good workout method to help people see fast results?
Interval training can be useful, as research shows ,when people are pressed for time and have busy schedules, like most of us do. I think simply if you spend just a bit more time introducing a stimulus that you're typically not used to, then you'll see better results. Interval training vs. steady state, especially when it comes to cardio, just makes more sense when it comes to general population, but all interval training does not need to be high intensity. Keep that in mind as HIIT takes a bit longer to recover from and it is not prudent to do that style of workout everyday.
What is your mantra when it comes to health and fitness?
Promoting productivity through physical enhancement. The physical benefits of wellness, while important, are overstated. The benefits of exercise and living well are for the brain. The body, at least in terms of glorious aesthetics, will fade but you want to make sure you're doing all you can to live to promote your overall well being. Being active year round is a vital part of that.
Nine Victoria's Secret Angels Reveal Their Unique Beauty Tips and Best Kept Beauty Secrets