Victoria's Secret Angel Josephine Skriver Recommends Using Coconut Oil for Just About Everything
"I eat coconut oil and drink tons of water."
---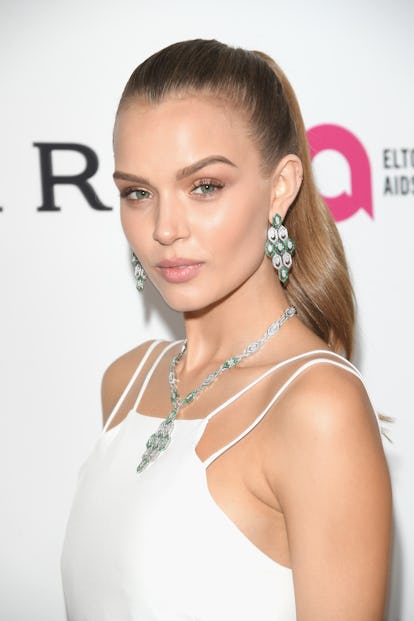 Venturelli
In December, model Josephine Skriver made her debut as an official Victoria's Secret Angel at the brand's fashion show in Paris–wearing 20 pounds of crystals, no less. But it wasn't her first time on the runway; Skriver is a regular both in Milan and with Victoria's Secret. So, of course, she has picked up quite a few tips from the pros backstage, and knows a thing or two about beauty on the go. Here, the Danish model opens up about everything from her love of coconut oil to her favorite New York City hotspots.
Your look in three words:
Natural, effortless and glowy.
Medicine cabinet snapshot:
Victoria's Secret Velvet Matte Cream Lip Stain in Wanted and Adore, Proactiv, coconut oil mixed with body lotion.
Good skin starts with:
Water. The second I'm dehydrated, it doesn't matter how much moisturizer I put on, it totally shows in my skin.
Best advice from your facialist:
Give yourself a little morning massage as you're washing your face and moisturizing to get the blood flowing back into your face.
SPF of choice:
I like the smell of Dr. Hauschka Sunscreen Cream and I use a hat.
Makeup miracle:
Coconut oil. I use it for everything.
Most underrated product:
A good body lotion. People are so focused on their face and forget that you need to be glowy and hydrated all over. The one that I love is the Victoria's Secret Coconut Milk Hydrating Body Lotion.
Never leave the house without:
Blotting papers. Even if you have nothing on, you can still look fresh.
A good hair day starts with:
A wash. I have a weird thing where I use conditioner before shampoo because it helps it feel less heavy.
Nails must be:
I have a bad habit of picking my nails, so I was told to always have a nail file on me to keep them healthy and avoid doing that.
Beauty from the inside out:
I eat coconut oil and drink tons of water. I'm also following the fad where I am trying to replace my coffee with matcha tea. We'll see how well that goes for me, because I love my coffee!
Exercise obsession:
The Dogpound in New York. It's really important for me to feel motivated and those guys are always having the most fun. I also have amazing girlfriends who encourage each other to go to the gym, work out together and push each other.
Drink of choice:
Water and coffee (which I'm trying to cut out)!
Product that you picked up from the pros:
Talia Sparrow introduced me to natural looking makeup and products that you can always find in Sephora. Carolina Gonzalez also told me that if you don't do anything to your face, at least do your brows!
A woman should smell like:
I've been wearing YSL Manifesto over the last couple of months, but I always switch it up depending on my mood and the season.
Appointment you'd love to nab:
Mudras Massage is introducing a new facial that I'm dying to try which is supposed to activate the facial muscle and make it look like a natural lift.
Spa-cation at:
I'm all for home spas. Although splurging is always nice to treat yourself, you can create a nice and calm environment at home with music, bath salts and scented candles.
TSA-friendly essentials:
I always travel with makeup wipes because it's easy when you're on the go. I like the paper face masks for the plane that are cooling.
In-tub must-read:
I'm all about a good book. Right now I'm reading The Nightingale by Kristin Hannah.
Best advice from mom:
My mom was always about starting the day with a positive mental state and attitude. She always says, "the cure for a long life is a happy mind."
Best-kept beauty secret:
A smile.
Beauty myth you'd like to debunk:
Tons of makeup will make you beautiful. I believe that less is more.
Anything else:
Girls have so much self-doubt and want to be perfect, but we're all perfectly unique and that's the real beauty.
Watch: Jasmine Tookes Tries On the $3 Million Victoria's Secret Fantasy Bra