Stella Maxwell Uses Sweet Potatoes and Dark Chocolate As a Form of SPF
The Victoria's Secret model shares her daily beauty routine and more.
---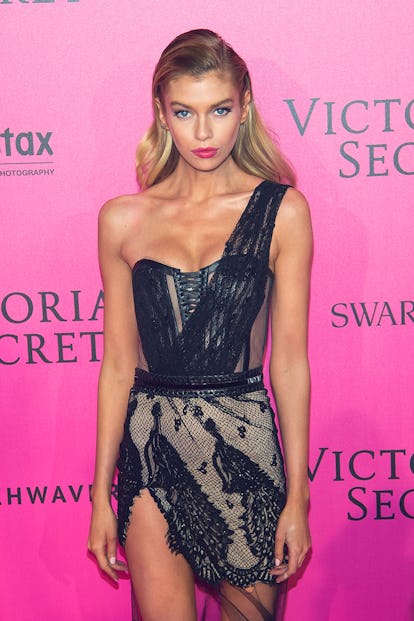 Michael Stewart
Known for her beachy blonde locks, sun-kissed skin and piercing blue eyes, it's hard to miss model Stella Maxwell these days. Whether's she dominating the Victoria's Secret runways or hanging out with her model squad, the supermodel has definitely picked up a beauty tip or two from the pros that populate behind the scenes. Here, Maxwell reveals her best kept beauty secrets from eating clean, to yoga to her favorite spa getaway in New York.
Your look in three words:
C'est la Vie.
Good skin starts with:
Water.
Best advice from your dermatologist:
Drink water, don't sleep with your makeup, and do a strong workout where you sweat each day.
Best advice from your facialist:
Eat clean.
SPF of choice:
Eating right is a natural defense against the sun. Sweet potatoes, dark chocolate, pomegranates, leafy greens, almonds, and teas all help against the sun. Otherwise, 100 SPF will do.
Makeup miracles:
I can't live without coconut oil.
Most underrated product:
Meditation and yoga. You can't buy them in a bottle, but they are gorgeous for the mind and body.
Never leave the house without:
Victoria's Secret Coconut Milk Hydrating Body Lotion, Max Factor Miracle Touch Foundation, my Victoria's Secret Super Soft Body Shea Butter, and a little Smith's Rosebud Salve.
A good hair day starts with:
Oribe Gold Lust Dry Shampoo.
My hair colorist always says:
Stay as natural as possible.
Nails must be:
Healthy. Take your vitamins!
Beauty from the inside out:
Eat avocados, drink plenty of water, and always use healthy oils. Also, do a lot of cardio as sweating is cleansing. But I have to say for me the key is staying calm and relaxed, stress does the most damage.
Exercise obsession:
My trainer is a secret! But I love cardio and I think having a solid and honest relationship with your trainer is so important.
Drink of choice:
Fresh juice is my favorite, but I do love a tasty protein shake.
Product that you picked up from the pros:
Embryolisse Rich Moisturing Cream.
A woman should smell like:
A "Bombshell" darling.
Appointment you'd love to nab:
Definitely Mauricio Bermudez at Suite Caroline in SoHo for my hair appointment and Hung Vanngo for a makeup.
Spa-cation at:
I really like Great Jones Spa in New York City because I don't have to travel anywhere and the spa is very relaxing.
TSA-friendly essentials:
Hand Sanitizer, a light cashmere blanket to cover the seat, noise canceling head phones, oil-free beauty wipes, and my Victoria's Secret Bombshell Rollerball and Very Sexy Travel Fragrance Mist.
In-tub must-read:
East of Eden by John Steinbeck.
Best advice from mom:
Be kind, be humble, be real, be healthy, and enjoy.
Best-kept beauty secret:
Cucumber water.
Definite doppelgänger:
My mom.
Victoria's Secret Choreographer Jermaine Browne Demonstrates the Allure of Pole Dancing