Model Arizona Muse Uses Coconut Oil For Deodorant, And Thinks You Should, Too
Model Arizona Muse dishes out her best skincare and dietary habits, her workout obsessions, and why less is always more.
---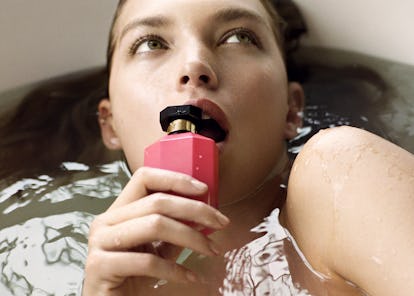 Photo courtesy of Stella McCartney.
From dominating the runways of Paris to debuting as the newest face of Stella McCartney's latest fragrance, STELLA Peony, which is available on November 27th at Sephora, model Arizona Muse has certainly been keeping busy these days. Revealing her excitement about the collaboration with the British fashion designer to W, Muse shared that,"Stella's brand is one of my favorite brands because of the sustainability aspect, because she's so true to her role in the world and she's just using her fashion brand to do so many good things. She's so modern, she just gets it right, so to be a part of it I'm really proud. This is a campaign that's so close to my heart." Here, the 29-year-old American beauty breaks down her love of natural skincare and beauty products, how a healthy diet is crucial for radiant skin and hair, and why we should all be drinking apple cider vinegar.
Your look in three words:
Elegant, sophisticated, and womanly.
Medicine cabinet snapshot:
My favorite product is the Liz Earle Overnight Mask, it's amazing. Liz Earle is this British company that's very organic and pure. Dr. Hauschka is also one my longtime favorite companies, they have so many really delicious products. They grow all of their own ingredients, as well, and are based in Germany. Then I use some coconut oil, rosehip oil and castor oil, and those are just from the grocery store, and they are all organic. That is very important, otherwise they are going to have pesticides that I don't want on my face.
Good skin starts with:
Good skin starts with a good diet, that means adequate hydration with the right water. And I do think especially as we approach our latter years—and I love getting older. I think that's really important to really embrace and love and don't fear it, don't stress about it because stress turns your skin really bad.
Makeup miracles:
Highlighter, definitely highlighter. I have an amazing Burberry highlighting compact ($52, sephora.com) that I love. I also think that a good concealer is really great and my favorite one right now is Chanel. It's quite thick, but I really like that; in a concealer, I want it to be quite thick. The color though is the most important thing, make sure your concealer and your foundation is the right color for you.
Most underrated product:
Coconut oil. I use it as deodorant as well. Deodorant is so poisonous and toxic for us; it has heavy metals in it and we have very important glands right there and, for women, breasts that you don't want to put those things next to. Coconut oil is a wonderful deodorant—it doesn't feel oily, it melts onto your skin really nicely, and it smells nice.
Never leave the house without:
I love brown eyeliner on the inner eye.
A good hair day starts with:
I also find that my diet affect my hair; when I eat a lot sugar and gluten, my hair goes really flat and whatever I do, it's going to look horrible. My hair is fine, so for me it's better when it has volume. I'm always trying to add volume and I think diet has a lot to do with that. Also Bumble and bumble has really great hair stuff. I love their sea salt spray.
Beauty from the inside out:
Anything that feeds the gut, so fermentation. Kefir is great, I drink a lot of kefir. Fermented cabbage, fermented kimchi, though I personally don't enjoy eating kimchi so much. I would much prefer rather to drink apple cider vinegar. I really have gotten used to it. I drink it with water, so probably one tablespoon with one big glass of water, and it makes a huge difference with everything. Also, if you've eaten something that you know is really unhealthy, but you just indulged anyway, or too much bread or anything like that, I love it at the end of the day too; it balances out your insides. You can even bathe in it, like a whole bottle of it, and it's really good.
Exercise obsession:
I go Equinox and Xtend. It's like barre, but more extension than barre. It's one of those workouts where you don't sweat that much, you sweat a bit, but it's not like circuit training where you are drenched in sweat. It is so effective—muscle toning, waist cinching, thigh shrinking, everything!
Drink of choice:
Water. I love water, I think it's most important one. I drink coffee sometimes, or tea. I love to be sensitive to caffeine, and use it when I need it.
Product that you picked up from the pros:
Homeoplasmine is an amazing lip conditioner. It works so well.
A woman should smell like:
I think a woman should smell like Stella Peony. It's wears really nicely, and it's strong enough that it stays on, but it's not overpowering. I tend to go for more serious scents and that's what I love about this. It's a floral but it's not too sweet; it has a serious woody undertone to it and I love that.
Appointment you'd love to nab:
I read the book recently of a doctor called Joseph Mercola, and he really interests me. He's full of ideas and I would love to go see him.
Spa-cation at:
I really want to try the Mayr Clinic, especially in winter because it's all in the mountains and cozy. That would be nice.
TSA-friendly essentials:
You would find apple cider vinegar, Dr. Hauschka Mascara, Homeoplasmine, and a little concealer in my bag. Another concealer that I really like is Lavera, which is a natural company that used to just do skin and body care and they just started doing makeup, as well. I'm really happy to see all this new makeup, because it's harder to do makeup with really natural ingredients, especially colorful eyeshadow and things like that.
In-tub must-read:
I like informational books. I like to learn things from my books. I read something quite spiritual recently that was amazing called Siddhartha by Hermann Hesse. It's a beautiful story with so much wisdom in it, and set in India. I loved it.
Best advice from mom:
Don't overpluck your eyebrows.
Best-kept beauty secret:
It's used to be all the oils; I was using face oils long before they became popular, but now that cat is out of the bag. So I guess now, it's Dr. Hauschka. I'm on a 28-day program right now, they have these tiny little capsules and you put one on your face every night for 28 days ,and they recommend you do that as many times per year as you have lived decades. It is incredible.
Beauty myth you'd like to debunk:
I would like to debunk that you have to have to do more, more, more to look better, better, better. It's just not true and I feel like a lot people get caught up in another product, another this or that, and do more treatments. I think that sometimes you need to take a step back, wash your face with some water, and walk away.
Definite doppelgänger:
People ask me if I'm Karlie Kloss quite often.
Related: Jen Atkin, Master of All Things Kardashian Hair, On How to Do Holiday Beauty Right
The Best of Model Beauty Secrets: