Jen Atkin, Master of All Things Kardashian Hair, On How to Do Holiday Beauty Right
"If you're not born with the hair you want, buy it."
---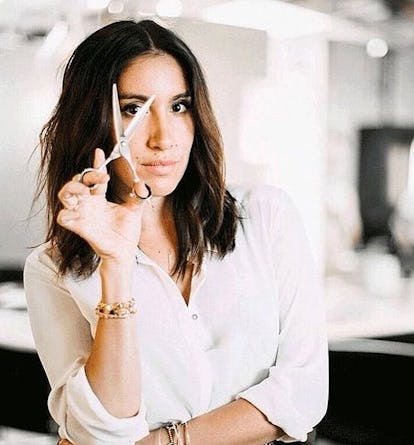 Jen Atkin is the maestro behind some of the most famous women in America's hair, including Karlie Kloss, Gigi and Bella Hadid, and, of course, the Kardashians. The celebrity hairstylist's tribe of famous devotees also swear by her haircare line, Ouai, which she launched last year. (Most recently, she added fragrances to the range, including a scent to match Ouai's highly popular Rose Hair and Body Oil.) She also happens to be actual friends with all of her clients, as evidenced by her frequent appearances in Chrissy Teigen and just about any Kardashian's Snapchat. Here, the hair maestro breaks down her latest hair and beauty obsessions, how to nail your holiday party looks, and more.
If you only had one hair tool or product that you could use, what would it be and why?
Dyson's Supersonic Hair Dryer is super lightweight, quiet, chic, and with a powerful engine. This is the ultimate luxe blow-dryer. It's so small and easy to travel with and dries the hair so much faster than the traditional blow-dryer. It uses intelligent heat control technology to help to prevent heat damage to your hair, preserving its natural shine. It works to smooth and straighten your hair using its powerful high-speed capabilities, leaving your hair beautiful and silky.
What are some products that you suggest to all of your clients to use to keep their hair strong, healthy, and shiny?
Healthy hair starts at the scalp, and if you're scalp isn't healthy, then your hair doesn't stand a chance. But a healthy scalp starts from within, which is why hair growth supplements, a healthy diet, and exercise are essential for growing out your strands. Taking the supplements while wearing Beauty Works clip-in extensions is a great way to cover up any shortness in the meantime and to let your natural hair grow.
What is the biggest myth out there about getting long, healthy hair?
Needing to trim your hair every six to eight weeks is a myth. If you use the right products and care for your hair, you should only need to touch it up a couple times a year. Most of my clients only see me one to two times each year.
What hair or beauty trend are you most excited about right now?
I'm loving bangs with a short, shaggy cut. Any lobs I'm super into. If you don't want to commit to a fringe or feel like your hair is too thin for added layers, use Beauty Works clip-in extensions. It's 2017, if you're not born with the hair you want, buy it.
Favorite drugstore beauty product of the moment?
I'm obsessed with Kiss eyelashes!
What new Ouai products are coming out next?
We're launching fragrances for the first time! We received an unbelievable amount of DM's from our followers asking us to create fragrances from our product's scents. A lot of what we do at Ouai involves a lot of crowd-sourcing to make the products that our followers and consumers want, actually come to life. There are three scents which I named them after my favorite cities in the world, Rue St. Honore, Mercer Street, and Melrose Place, which are my favorite streets in each city, but the scents are the same as our signature Ouai No. 1, No. 4, and No.5 that you'll smell in our shampoos, Hair Oil, and Rose Hair and Body Oil, respectively. They will be available exclusively on theouai.com.
The holidays are quickly approaching. What is a great, relatively easy look to do that's glamorous but not over-the-top?
I love Chloe + Isabel hair accessories for fall and winter. It's such a simple way to upgrade your look or for taking your hair from day to night. There are so many accessories to choose from. But the bun cuff is perfect to accent a top-knot, for those last-minute holiday parties. It can dress up any look; the cuff even doubles as a bracelet.
What is the most overdone holiday beauty look?
Anything too clean and boring. Cookie-cutter styles are so old school.
I know you travel a ton. If you're about to get off the airplane and need to head straight to a big party or somewhere important, what do you do to freshen up in five mins?
I always use a Slip silk eye mask and KNC lip mask on the plane. If I only have five minutes, I use Honest Beauty Blotting Sheets because I get really oily. I apply Herbivore Hibiscus Coconut Water Hydrating Face Mist. On my body, I use Christophe Robin's Regenerating Plant Oil with Rare Prickly Pear Seed Oil and roll-on Ouai Fragrance. I use Dry Shampoo to freshen up my hair. Makeup-wise, I'm obsessed with Diorshow mascara, Kiss Lashes, Kevyn Aucoin Concealer, YSL powder, YSL eyeliner, Kylie Cosmetics Illuminating Powder, Anastasia Beverly Hills Brow Wiz and Clear Brow Gel, Pat McGrath liquid eyeliner, Chrissy's Becca Palette, KKW contour kit, Charlotte Tilbury Cheek to Chic Blush in Ecstasy and Kylie's Mary Jo color for my lips.
Where is your favorite spa or retreat for when you need to detox?
Spa Montage and The NOW in LA.
Related: Kim Kardashian's Paris Robbery Inspired Her First Fragrance
Here Are the Real Heroes of the Kardashian Jenner Family Empire