Emma Roberts Loves Her Extensions, But May Be Ready For a Major Transformation
The actress opened up over a glass of rosé about her future hairstyles, new book club, and more.
---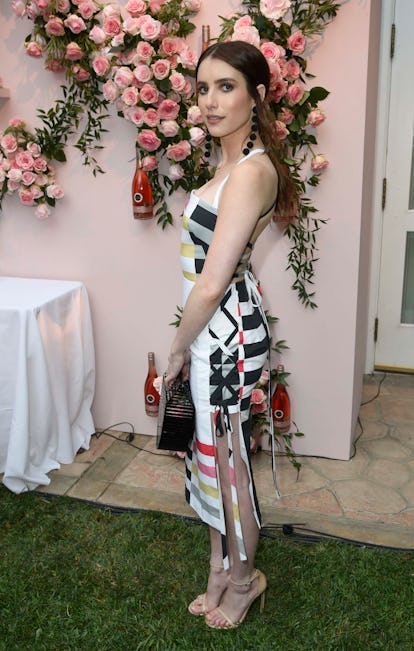 MICHAEL SIMON/Startracks
Between Kristen Stewart, Cara Delevingne, and Katy Perry, it's clear that super short, platinum blond-colored hair is having a moment in Hollywood. And actress Emma Roberts may be the next star to join the trend.
"You might be seeing a pixie cut coming soon this summer," said the Scream Queens star on Tuesday evening, rosé in hand, at the Beverly Hills Hotel's crystal garden. "I've just had extensions for so long, and I love it, but I kind of just want to have my real hair, and I don't know, I'm looking for a role to cut all my hair for, but it might just have to be life."
The History of Emma Roberts Ever-Evolving Hair Color
The young actress attended the Teen Vogue Young Hollywood Party in 2006 with her golden blonde locks in relaxed curls.

Photo by Getty.
Roberts went brunette at the Teen Vogue Young Hollywood Party in 2007 with her locks side parted in loose waves and sun-kissed skin.

Photo by Getty.
Simply chic, Roberts kept her dark brunette hair in a sleek bun wit rosy cheeks at The Curious Case of Benjamin Buttons film premiere in 2008.

Photo by Getty.
Roberts attended a screening of Brothers in 2009 with tousled curls and a soft pink lip.

Photo by Getty.
Roberts wore her auburn red locks in a simple up do with a golden eye at the 8th Annual Teen Vogue Young Hollywood Party in 2010.

Photo by Getty.
At the CNN Heroes: An All-Star Tribute in 2011, Roberts wore her shoulder length, blonde locks in tousled waves with a sleek cat eye.

Photo by Getty.
Roberts arrived at the Victoria's Secret 7th Annual What Is Sexy? party in 2012 with her highlighted locks in a chic French twist with side bangs.

Photo by Getty.
Roberts rocked a metallic smoky eye with her long, platinum locks at the American Music Awards in 2013.

Photo by Getty.
Roberts looked elegant with a sleek side-parted pony and a grey smoky eye at the 71st Annual Golden Globe Awards in 2014.

Photo by Getty.
At the 2014 Vanity Fair Oscar Party, Roberts showed off her newly chopped locks with a satin red lip.

Photo by Getty.
Looking regal at the 67th Annual Primetime Emmy Awards in 2015, Roberts wore her platinum locks swept over in loose curls with a matte pink lip.

Photo by Getty.
Roberts was boho chic with her red locks in a tousled, French braid up do with a purple smoky eye at the Costume Institute Gala in 2016.

Photo by Getty.
Actor Emma Roberts attends the 89th Annual Academy Awards at Hollywood & Highland Center on February 26, 2017 in Hollywood, California.

Photo by Getty Images.
Roberts was in good spirits at the celebration, which was held for the launch of Kim Crawford Rosé. "It feels like the start of summer celebrating rosé," she said. "I'm here with my best friend Karah [Preiss], and we're just hanging out."
The two friends recently started a monthly book club together, Belletrist.
"Joan Didion's South and West was our first book, and our book right now for May is called Marlena by Julie Buntin," Roberts shared. "It's a really, really beautiful novel but also sad, about female friendships and how they affect you throughout your whole life."
The book club already has over 87 thousand followers on Instagram—which comes as no surprise; Roberts has 10 million of her own, after all. (Kim Kardashian and Chrissy Teigen should take note.)
"Every time I'm reading or picking out a book, I feel like I'm doing what I should be doing," she continued. "It's something I've been wanting to do for years and years and years, but I could never really find the right way to do it, but then, I was like, 'we have to do this.' I feel like it's such an important time for people to be reading, to learn more and be curious and get interested in other things. To me, I love acting, but to put my energy into something else was really important. There's nothing more important than knowledge."
Cara Delevingne, Kate Hudson, Angelina Jolie and More Actresses Who Have Cut Their Hair for Hollywood
To play the '70s and '80s supermodel Gia Carangi in the HBO TV film Gia, actress Angelina Jolie cut her dark hair into a shorter style.

Photo by Getty.
After shaving her hair for her role in V for Vendetta, actress Natalie Portman paired her buzz cut with taupe smoky eye and a nude lip on the red carpet.

Photo by Getty.
Anne Hathaway chopped off her long, brunette hair for her role in the musical Les Misérables, and won an Oscar.

Photo by Getty.
Actress Tilda Swinton went completely bald for her role in Doctor Strange, but let her hair grow back in stages.

Photo by Getty.
Attending theComic-Con International 2013, actress Karen Gillian debuts her buzzed cut that shaved her head for her role in Guardians of The Galaxy.

Photo by Getty.
South African beauty Charlize Theron went short for her role in the film Mad Max: Fury Road.

Photo by Getty.
Model and actress Cara Delevingne debuted her newly shaved head as she prepares for her role in her upcoming film Life in a Year.

Photo by Splash News
Kate Hudson gets into character for her role in her new film with singer Sia, debuting her recently shaved head.

Photo by Backgrid.
Related: Model and Musician Rainey Qualley Undergoes a Radical Hair Transformation in the Hands of Celeb Stylist Garren