In Conversation: Stella McCartney Talks to Natalia Vodianova About Everything from Sustainability and Consumerism to Motherhood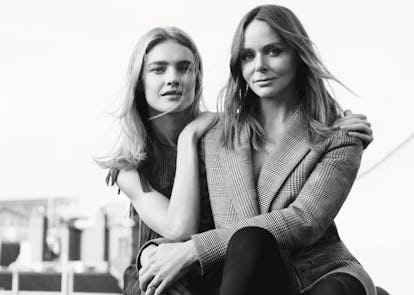 Photograph by Mary McCartney; Hair by Lewis Pallett for Kerastase Couture Styling Range at Eighteen Management; makeup by jane bradley for MAC; photography assistant: Ryan O'Toole.
Though Stella McCartney and Natalia Vodianova have done nine campaigns together, those photo shoots are but a small part of their nearly 20-year friendship. "I always wanted Stella's to be the biggest brand in the world because of what it means," says Vodianova, referring to McCartney's commitment to sustainability. "What I do in fashion is more than fashion, and I've always wanted to engage with like-minded people in the process," McCartney adds. Here, they talk conservation, consumerism, and why all you need is love.
Natalia Vodianova: When you started your company 16 years ago, with your commitment not to use animal products, people said, "It's so cute, but it'll never work." Like when I started my charity, people were dismissive.
Stella McCartney: At that stage the fashion industry really didn't have its own core values. People only cared about, what's the new silhouette, what are the colors?
Vodianova: And now charity and sustainability are driving factors behind certain successful brands.
McCartney: If they're done in a genuine manner. People have dipped in and out of these causes since they've become marketing strategies. But when I started, to even have that conversation was really ridiculed. I can say what I believe in and give valid reasons for not killing billions of animals a year in the name of fashion, talk about water consumption and inefficiency, and how ridiculous and old-fashioned I think the system is. But if I don't have a healthy business to back me up, then I can only have that conversation for a certain period of time.
Vodianova: Well, I've never felt threatened by you. You're not like, "You're my friend only if you're vegan." You're not condescending to your consumers, either.
McCartney: We're design driven. That's intentional. I grew up on an organic farm, not eating animals, and that was crazy in that day and age. I'd sit at dinner parties, and people would get upset at even the thought that I was a vegetarian. The new generation takes a mindful approach to consumerism, but back then I received aggression because of my personal choices, and I didn't like it. People don't like being told what to do. Also, from the age of 12, I was on a path to becoming a fashion designer, regardless of how I sourced my materials. The fact that there's no leather or fur or PVC in my work and that we use recycled bottles is all secondary to the design.
Vodianova: What do you think when people touch your bags and say they love them because they feel like real leather?
McCartney: I've always been fascinated by this old-fashioned mind-set that leather equals luxury. For me, fashion is about change. You have to break out of the trappings the luxury world has caught itself in. They're not modern.
Vodianova: My family couldn't afford leather shoes, so I understand that fascination with leather.
McCartney: We all want to aspire, but animal life has been so cheapened in the world we live in. A piece of organic nylon recycled from plastic bottles found in the middle of the ocean is probably double the price of a dead animal, and that is astonishing. We've also taken three years to develop our viscose from sustainable forests. My product becomes more expensive to make, but I don't pass that cost on to my consumer. I absorb it myself. I have people who want to work with us now because of our company values, and I'm really proud of that.
Vodianova: Your brand cultivates an optimism we so need today. The models always dance at the end of the shows.
Meet the New Class of Philanthropists, from Ashton Kutcher to Stella McCartney
McCartney: It's funny coming from me that all you need is love, but it's true—there's nothing left at the end of the day if you don't have that.
Vodianova: Your mom was such an inspiration to you. My icon is my grandmother, and I always catch myself thinking, I can never be like this woman.
McCartney: That's not true, though, is it?
Vodianova: Well, it makes me try to live up to her every day. How do you keep your mother alive for your daughters?
McCartney: Beyond the parenting and skills and principles she gave me, feeling unconditional love is the most valuable thing you can have as a child. I take it for granted that my daughters are pretty solid, strong girls. One is 6 and one is 10, and they're fearless. They can have an opinion and a voice. Yesterday, Bailey was having a bath and we were talking about whether Instagram is appropriate for her. It was liberating for me as a mum to be able to say, "I'm, like, gaming my way through this minefield without a clue—let's try to do it together." And then we were talking about Meat Free Monday and the environmental damage caused by livestock. We have moments of mindful awareness. And then we talk absolute crap.
Vodianova: What is Meat Free Monday?
McCartney: It's a campaign about the impact that the consumption of animals has on our planet that my family has promoted since 2009. If you give up meat just one day a week, it has the same environmental effect as giving up your car for a month. Little things that seem like beautiful gestures can have a real impact.
Vodianova: Do you remember when you brought me to Scotland two years ago?
McCartney: Yeah, when we shot one of our campaigns. You'd never been.
Vodianova: No, and I brought my children. It was spring; there were a lot of baby animals. I fell in love with baby cows and vowed I would not eat veal ever.
McCartney: That's a big deal. I don't think that's a little thing at all! I'm proud of you. Next time we'll toast to that with some nice sipping tequila.
Natalia Vodianova Talks About Her Girl Crush on Julia Roberts