Ariana Grande and Nicki Minaj Love Each Other and Want You to Buy Both of Their Upcoming Albums, Sweetener and Queen
After Minaj pushed back her Queen release date to the same day as Sweetener.
---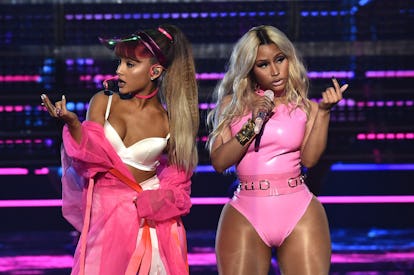 Theo Wargo/MTV1617/Getty Images for MTV
It's one of the music industry's biggest failings that women are so often pitted against each other instead of uplifted and supported. Ariana Grande and Nicki Minaj, though, aren't having it. After the rapper announced she would be pushing back her fourth studio album Queen to August 17, the same day the pop singer's Sweetener album drops, it didn't take long for the internet to frame the decision as a competitive one. (In reality, Minaj extended her release date because she was waiting on approval of a Tracy Chapman sample — aka, the most valid delay reason there ever was — as she revealed on Instagram.) The two artists, though, immediately shut that down.
When one fan came to Minaj's defense, speculating that "Nicki's push has nothing to do w her 'not being Ariana's friend'," Grande jumped in. "Jesus is this what's going on today?," she tweeted in response, "Imma jus stop logging in at all lmfao. That's my f-cking sister. She's clearing a sample."
Grande asked fans to support both artists, instead of picking one side. "Buy and stream Queen & Sweetener Aug 17 bye," she tweeted. "These numbers don't mean as much to the artist as they do to y'all. Jus want y'all to listen to the project."
"Happy Sweetener and Queen and Bloom month," she later wrote, referring to both her and Minaj's albums, as well as Troye Sivan's upcoming second album.
Then, Grande revealed that she and Minaj were watching the drama unfurl from afar with no hard feelings. "Me n Nicki laughed at dat," she tweeted.
Minaj, meanwhile, shouted out Grande when announcing her new Queen release date in a note on Apple Music, where she did an Essentials playlist takeover, as Billboard noted. "My darlings!!! I have a huge surprise that I can't share until the day before #Queen drops," she wrote. "I'm super excited about my recent collaboration with Ariana Grande. She's one of the realest artists I've had the pleasure of working with. She couldn't fly with me to Turks to shoot the #BedVideo so we shot her scenes in Malibu. We're actually working on edit number 2 for the #BedVideo to include all the fun stuff we had to remove. Can't wait for you guys to hear my 4th album QUEEN ON AUGUST 17!!!!!!!"
She also shared Grande's tweet, adding, "I love this woman. Can't wait for the fans to benefit from all the hard work on both ends. We love your passion. You guys will be VERY happy. Trust. That's all I'll say ???"
What she didn't say is that sometime soon we may get one more album from both artists — this time a collaborative one.